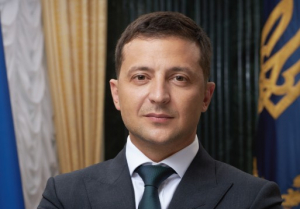 Speaker
Agenda
President of Ukraine
Volodymyr Zelenskyy was elected President of Ukraine on April 21, 2019

On 20 May, 2019 sworn in as the 6th President of Ukraine

January 25, 1978 - Born in Kryvyi Rih, Ukraine

2000 - Graduated from Kyiv National Economic University, with a law degree

1997-2003 - Actor, performer, script writer, producer of the stand-up comedy contest team «KVARTAL 95»

2003-2011 - Executive producer, "KVARTAL 95", LLC

2011-2012 - Chief Executive, PJSC "Inter TV Station"

2013-2019 - Executive producer, "KVARTAL 95", LLC

Founded "The League of laughter" NGO. Produced 10 feature length movies, won more than 30 awards of the National Television Award of Ukraine "Teletriumph". President Zelenskyy is a prize-winner of numerous international film festivals and media forums.

From the outset of the hostilities in Donbas Volodymyr Zelenskyy and "KVARTAL 95" rendered support to the Armed Forces with funds, equipment and arranged shows on the front line and in different military units.

Married to Mrs Olena Zelenska, with 2 children - daughter Oleksandra and son Kyrylo.