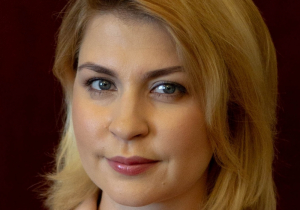 Speaker
Agenda
Deputy Prime Minister for European and Euro-Atlantic Integration of Ukraine
Olha Stefanishyna is the Deputy Prime Minister for European and Euro-Atlantic Integration of Ukraine since June 2020. She is the only female DPM and one of two female members of the Ukrainian Government.

In the Government, Olha Stefanishyna is the key responsible for coordinating an active and consistent course of Ukraine's integration to the EU and NATO, as well as implementing the SDGs in Ukraine with special focus on gender equality. Upon her appointment she has initiated an update of the Association Agreement in order to boost trade between the EU and Ukraine, and enhancement of transborder cooperation through better access to financial instruments of the EU. The second part of DPM Stefanishyna portfolio is ensuring all-government coordination of Ukraine-NATO cooperation, including Ukraine's EOP status practical implementation and programs to increase the military interoperability between Ukraine and NATO Allies military forces.
Olha has a Master's Degree in International law and a Diploma in economics, studied at the Diplomatic Academy of Vienna, and at the Estonian School of Diplomacy.

DPM Stefanishyna has over 13 years of experience in the field of International and European Law, including her work in the Ministry of Justice of Ukraine, serving as a Director-General in the Government Office for Coordination of European and Euro-Atlantic Integration of Ukraine, and her private legal practice. She is well known in the professional circles as one of the most qualified "euro-integrators" of Ukraine although she is only 34 years old.

Olha Stefanishyna is fluent in Ukrainian, English, and Russian.