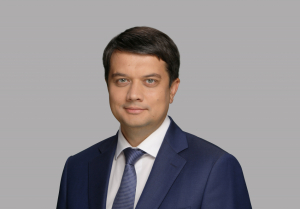 Speaker
Agenda
Chairman, Verkhovna Rada of Ukraine
Dmytro Razumkov has been serving as the Chairman of the Verkhovna Rada of Ukraine since August 2019. Strengthening institutional capacity of the Ukrainian legislature is one of the priorities at his parliamentary activity. Mr. Razumkov observes in full the Rules of Procedure of the Verkhovna Rada of Ukraine. He has consistently stood his ground that everyone has to always act exclusively in accordance with the law as the law applies to everyone without discrimination.

He was a Political Advisor to the presidential candidate Volodymyr Zelenskyy during the 2019 election campaign.

Following the victory in the 2019 parliamentary elections he became a Member of Parliament of Ukraine. Dmytro Razumkov was elected the Chairman of the Verkhovna Rada of Ukraine on August 29, 2019 by a record number of 382 votes.

Dmytro Razumkov has worked in the field of political consulting and electoral processes since 2006. He participated in local and central election campaigns, held executive positions in the private and public sectors. He was also a consultant to the parliamentary candidates.