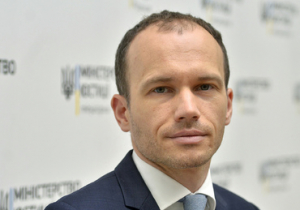 Speaker
Agenda
Minister of Justice of Ukraine
Born on November, 19, 1981 in Dunaivtsi, Khmelnytskiy Region, Ukraine.

Education:
2016 - Master of Laws, London University
2004 - Graduated from Taras Shevchenko National University of Kyiv, Faculty of Law

Career:
Since August 29, 2019 - Minister of Justice of Ukraine
2010–2019 - Private Sector Development Consultant and Expert in the field of Technical Assistance to Governments of Ukraine, Belarus and Central Asia at the World Bank Group
2000–2010 - Lawyer in the fields of business law, dispute resolution and bankruptcy at the «Business Law» law firm

Mr. Denys Maliuska was elected to the Verkhovna Rada in 2019 as a people's deputy, but surrendered his deputy mandate upon his ministerial appointment on August, 29th, 2019.

Languages: Ukrainian, Russian, English.

Married, he has three daughters and a son.