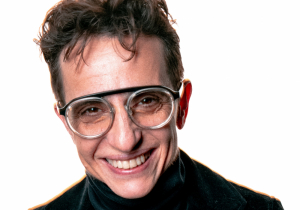 Speaker
Agenda
Author, Journalist, Staff Writer, The New Yorker; Distinguished Writer in Residence, Bard College
One of our most trenchant observers of Russia and its history, Masha Gessen is the author of eleven books, including the National Book Award-winning The Future Is History: How Totalitarianism Reclaimed Russia and The Man Without a Face: The Unlikely Rise of Vladimir Putin.

Gessen has written on Russian and Soviet history and politics, Putinism, and Trumpism and is currently working on a book on imaginative political projects. Their latest book, Surviving Autocracy, is a bracing overview of the calamitous trajectory of American democracy under the Trump administration. In the run-up to the 2016 election, they stood out from other journalists for the ability to convey the ominous significance of Donald Trump's behavior, unprecedented in a national candidate. Within forty-eight hours of his victory, the essay "Autocracy: Rules for Survival" had gone viral, and their coverage of his norm-smashing presidency became essential reading for a citizenry struggling to wrap their heads around the unimaginable.

On a parallel track, Gessen has been a science journalist, covering AIDS, medical genetics, and mathematics. Their 2008 book Blood Matters: From Inherited Illness to Designer Babies, How the World and I Found Ourselves in the Future of the Gene explores the way genetic information is shaping the decisions we make—not only about our physical and emotional health but about whom we marry, the children we bear, even the personality traits we long to have.

A regular contributor to The New York Times, The Washington Post, Harper's, The New York Review of Books, Vanity Fair, and Slate, among other publications, Gessen is a staff writer at The New Yorker. They have taught at Amherst and Oberlin Colleges and currently serve on the faculty at Bard College. The recipient of a Guggenheim Fellowship, an Andrew Carnegie Fellowship, a Nieman Fellowship, the Hitchens Prize, and the Overseas Press Club Award for Best Commentary, Gessen has lived in New York since 2013 after more than twenty years as a journalist and editor in Moscow.