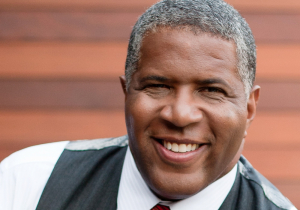 Speaker
Agenda
Founder, Chairman and CEO, Vista Equity Partners
Robert F. Smith is the Founder, Chairman, and CEO of Vista Equity Partners (Vista), founding director and President of the Fund II Foundation and celebrated philanthropist. Through Fund II Foundation, he supports programs like internX and the United Negro College Fund. In 2019, Smith made history during his commencement address to the graduating class of Morehouse College, committing to pay off the student loan debt, a gift that totaled over $34 million dollars. Smith's act sparked the inception and later creation of a non-profit that offers an income-contingent alternative to traditional loan options: the Student Freedom Initiative. The Student Freedom Initiative was launched in 2020 after receiving individual $50 million donations from Smith and Fund II Foundation.
Robert Frederick Smith was born in Denver, Colorado to two educators who instilled within Smith the value of education. When Smith was in high school, he worked diligently to obtain an internship at Bell Labs after realizing his love for technology. Although the coveted internship was meant for college students, he secured the position and later trained as a chemical engineer at Cornell University, earning his B.S. in chemical engineering. Following Smith's graduation from Cornell in 1985, he worked at the Goodyear Tire and Rubber Company, as well as Kraft General Foods, where he earned two US and two European patents. However, during his time working as an engineer, Smith became interested in finance. In 1994, Smith graduated with an MBA from Columbia University Business School. That same year he joined Goldman Sachs in tech investment banking. In 2000, Smith left Goldman Sachs and opened his own investment firm, Vista, focusing on private equity, permanent capital, credit and public equity investment strategies. Vista solely invests in enterprise software, data and technology-enabled companies. Its ultimate goal is to offer financial, technological, operational and cultural tools that will allow the partner companies to sustain growth. Vista has locations in Austin, Chicago, New York City, Oakland and San Francisco.
Smith is just as dedicated to his philanthropic efforts as his business endeavors. For example, In 2016, Smith gifted $20 million to the National Museum of African American History and Culture, the largest by an individual donor at the time. In 2017, Smith signed on to the Giving Pledge, committing to donate half his wealth throughout his lifetime. And, in 2018, he made the largest donation ever at the time in support of prostate cancer research aimed at helping African American men. Furthermore, Smith proudly supports organizations that offer educational and career opportunities for women and those of minority groups, including Girls Who Invest and National Society of Black Certified Public Accountants, as well as those that promote the arts, such as the Sphinx Organization, and those that provide access to the outdoors like Lincoln Hills Cares.
Throughout the years, Smith's business achievements and global philanthropic works have received recognition from numerous entities. He has received the UNCF's President's Award, the Carnegie Medal of Philanthropy, the Morehouse Candle Award in Business and Philanthropy, the Congressional Black Caucus Foundation Chair's Award, the Reginald F. Lewis Achievement Award, the Humanitarian of the Year Award from the Robert Toigo Foundation and the Ripple of Hope Award from the Robert F. Kennedy Human Rights, among others. Smith was listed on Forbes' 100 Greatest Living Business Minds, and in 2019, he was also inducted into the Texas Business Hall of Fame.
Smith is the Chairman of Carnegie Hall and the Chair of the Robert F. Kennedy Human Rights. Furthermore, he serves on the Board of Overseers of Columbia Business School as one of their distinguished alumni, is a Member of the Cornell Engineering College Council, is a Member of the Executive Committee of the Business Roundtable and is a trustee of the Boys and Girls Clubs of San Francisco. Smith is also a Founding Partner of Reform Alliance.
In 2019, Robert F. Smith was a guest speaker at the 16th Annual YES Meeting in 2019. Smith, along with David Rubenstein, hosted the panel "Happiness Now. New Approaches for a World in Crisis."