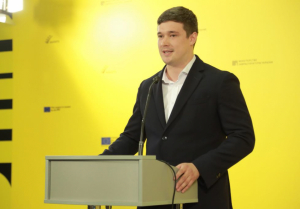 Speaker
Agenda
Deputy Prime Minister, Minister of Digital Transformation of Ukraine
Mykhailo Fedorov was born in 1991 in Vasylivka, in the Zaporizhzhia Region. From 2009 to 2014, Mykhailo Fedorov studied at the Faculty of Sociology and Management at Zaporizhzhia National University. During his studies, Mr. Fedorov was actively involved in the social life of the city, eventually building one of the largest youth organisations in the Zaporizhzhia Region.
From 2015-2019, he was the founder and CEO of SMM Studio. Mr. Fedorov was able to build a modern company in a complicated time for the Ukrainian economy.
In 2018, Mykhailo Fedorov worked as COO for the Superhumans project - a major educational media platform.
Mr. Fedorov, alongside his team, developed a digital strategy for the election campaigns of Vladimir Zelensky and his party Sluha Narodu (Servant of the People). On May 3rd, 2019, he became an External Advisor to the President of Ukraine in digital domain.
Mykhailo Fedorov was elected MP of the Verkhovna Rada of Ukraine of the ninth convocation in 2019.
On August 29th, 2019, Mykhailo Fedorov was appointed as Deputy Prime Minister and Minister of Digital Transformation in Ukraine.