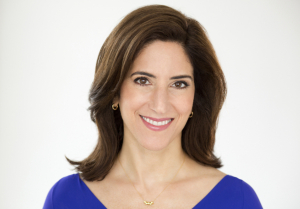 Спікер
розклад виступів
Оглядачка Financial Times, Аналітикиня світової економіки, авторка книг
Global Business Columnist at The Financial Times and Global Economic Analyst at CNN Rana Foroohar covers the intersection of business, economics, politics, and foreign affairs. Foroohar frequently profiles movers and shakers in finance and business, including Warren Buffett, Bill Gross, Howard Shultz, Mary Barra, and Carl Icahn. Her book, Don't Be Evil: How Big Tech Betrayed Its Founding Principles — And All Of Us (2019) "presents a sweeping indictment of technology companies and their reach into every aspect of our lives" (The New York Times).

A sought-after commentator for her high-level yet accessible analysis, Foroohar speaks on the shifts occurring in globalization, the political economy, and the digital economy. She draws from her weekly column to offer real-time analyses on emerging markets, women in the workplace, education, and the disruption of big tech. She has chaired panel discussions with world leaders, intellectuals, and economists at the World Economic Forum and elsewhere, including a Harvard Business School program on improving U.S. competitiveness.

With FT Editor Edward Luce, Foroohar writes the twice-weekly newsletter "Swamp Notes," which covers money and power in Trump's America and the big themes driving politics, business, and markets. She recently appeared in the Frontline documentary, Left Behind America, about Dayton, Ohio's struggle to recover in the post-recession economy.

The former Economics Columnist and Assistant Managing Editor for TIME, Foroohar has penned numerous cover stories and essays on China and the next global recession, Europe's economic crisis, and the rise of "localnomics" means for American business.
For 13 years, Foroohar served as the deputy editor in charge of international business and economics for Newsweek and headed up coverage for the annual Davos special issue. She spent six years as Newsweek's European correspondent based in London, covering business news throughout Europe and the Middle East.
Foroohar's first book, Makers and Takers, was a finalist for the 2016 FT & McKinsey Business Book of the Year Award.
In 2019, Foroohar was awarded a SABEW award for her tech and policy coverage at the Financial Times. The recipient of awards and fellowships from institutions such as the Johns Hopkins School of International Affairs and the East West Center, Foroohar is a graduate of Barnard College, Columbia University, and a life member of the Council on Foreign Relations.