Changes around us have gained an unprecedented pace and scale – Alexander Kwasniewski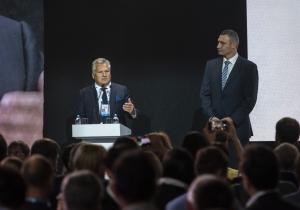 13 September 2018
"The changes around us have gained unprecedented pace and scale, and it is important to find time to realize and take note of this", said Alexander Kwasniewski, President of Poland (1995-2005), Chairman of the Board of YES, at the opening of the 15th Yalta European Strategy Annual Meeting (YES), themed "The Next Generation of Everything" and organized by the Victor Pinchuk Foundation.
"The changes that we have been observing, especially at the beginning of the 21st century and in the recent years, are absolutely unprecedented in terms of their pace. We see a new generation in almost everything and everywhere... We propose to you a short pause – a break for two days – to take note of those changes and new everything", he said.
Kwasniewski added that taking time to consider these changes would be especially interesting and exciting. "The situation reminds more of Formula 1, and I think that a short pause for an intellectual debate and exchange of views is necessary for all of us", concluded the YES Board Chairman.
The official Twitter handle of the 15th YES Annual Meeting is @yes_ukraine, and participants and followers can include the hash tag: #YESUkraine2018
Partners of 15th YES Annual Meeting:
Arawak Energy, Hillmont Partners, lifecell, International Renaissance Foundation, Western NIS Enterprise Fund (WNISEF).
Media partners of 15th YES Annual Meeting:
Dzerkalo Tyzhnya (DT.UA), European Pravda, ICTV, Liga.net, Novoye Vremya Strany (NV), PRYAMIY Channel, Radio NV, The Kyiv Post.
←

Back to news list