The world diplomats are to settle the Ukrainian-Russian conflict – Richard Branson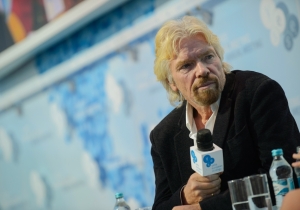 12 September 2014
The world community is intent on doing their best to ensure success of the diplomatic initiative on settlement of the Ukrainian-Russian conflict, stated Sir Richard Branson, the founder of Virgin Group, at the session "How business can facilitate peace making for Ukraine" at 11th Annual Meeting of "Yalta European Strategy" (YES) on Friday in Kyiv.
"Continuation of the war will do nothing good…I believe we need to do our best so that the diplomatic initiative be a success. Russia has vast capacity and if the diplomacy fails, we will see the next towns and cities falling and this is not in the interests of Ukraine", - said Richard Branson.
According to the businessman, the current situation could have been avoided if the West had cooperated with RF more closely and perceived Russia's President Vladimir Putin more positively: "President Putin feels to be disliked. Even when he was reelected, he did not receive warm attitudes from the West. Perhaps, the West in fact has made a mistake with regard to Russia. If Putin felt the West liked him more this wouldn't have happened. If we had put better efforts in engaging Russia to cooperation, if we had encouraged Russians more, perhaps everything would have been quite the other way".
The businessman and philanthropist would like to talk to Mr. Putin about the Ukrainian crisis, and he calls the Ukrainians to support their President Petro Poroshenko's steps. Moreover, Richard Branson stated that the Crimean peninsula annexed to Russia would not return to Ukraine for a certain time. "The Crimea does not seem to become a part of Ukraine again", - believes the founder of Virgin Group.
Yalta European Strategy (YES) is the leading public diplomacy platform in Eastern Europe to develop strategies for Ukraine and Wider Europe and promote Ukraine's European integration. YES was established in 2004 by Ukrainian businessman and public figure Victor Pinchuk and is led by a distinguished board including President of Poland (1995-2005) Aleksander Kwasniewski, former Secretary General of NATO (1995-1999) and EU High Representative for Foreign and Security Policy (1999-2009) Javier Solana, and others.
The 11th Yalta European Strategy (YES) Annual Meeting will be streamed live at yes-ukraine.org in English and Ukrainian.
The official Twitter of the 11th YES Annual Meeting: @YES_Ukraine, Hashtag: #YESUkraine2014
Special Partners of the 11th YES Annual Meeting include:
DTEK, ALFA-BANK (UKRAINE), BURISMA HOLDINGS
Partners of the 11th YES Annual Meeting are:
SHELL, INTERNATIONAL RENAISSANCE FOUNDATION
Media Partners of the 11th YES Annual Meeting are:
ICTV, UKRAYINSKA PRAVDA, NOVOYE VREMYA STRANY (NV), ERA FM
←

Back to news list