Ukraine has to close gap between declared changes and their implementation - Aleksander Kwasniewski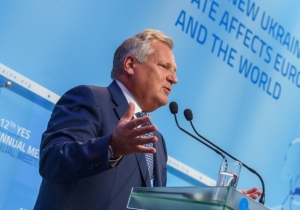 12 September 2015
The best way for Ukraine to overcome the current difficult situation is for the country to make every effort to implement the reforms it has already declared, stated Aleksander Kwasniewski, President of the Republic of Poland (1995 - 2005), in his closing speech at the 12th Yalta European Strategy (YES) Annual Meeting.
"The problem for Ukraine is the gap between its declarations and their implementation. Now is the time for you to begin implementation. It is extremely difficult work. But I see in this room, and in the country, the energy needed to complete these reforms, changes. The country wants to be different, people want to be different," he said.

Aleksander Kwasniewski added his voice to many others who have spoken at the conference this week, saying that the country's most important objective must be the fight against bureaucracy and corruption which are burdensome inheritance from the old Russian empire.

"The second most important step for you is to show what Ukraine can offer the world. You must show what you can produce, export, that you can be an important element of the international community," he said.

The former Polish president finished by saying that a critical task for Ukrainian society is the transformation of their current collective mentality. People have to become more tolerant, more understanding of difference, more patient. "For us in the West this is our understanding of what a modern society is. Changing the way your society thinks, being more open and tolerant, is how you will change the country to a point where it can never go back to where you have been. It is the best guarantee that Ukraine will never return to an authoritarian system and politics, to a dependent judicial system. It will not be easy to achieve that, it will take time and patience. On this journey, we Europeans must continue to show our unity and solidarity in supporting Ukraine," he concluded.
The official Twitter of the 12th YES Annual Meeting is @yes_ukraine, and participants and followers can include the hashtag: #YESUkraine2015.
←

Back to news list