The world should help Ukraine deal with the conflict with Russia, - Lawrence H. Summers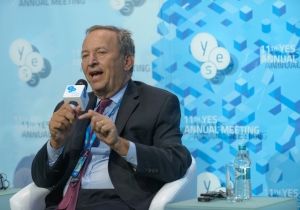 12 September 2014
The global community should support the Ukrainian State in its aspiration to deal with the conflict with Russia, solve the issue of access to energy resources and further reform of the economy. This is the opinion shared by Harvard University Professor Lawrence H. Summers during the panel "Global Economy and Geopolitical Risks – Disruptions from Battlefield Ukraine" at the 11th Annual Meeting of Yalta European Strategy (YES) on Friday in Kyiv.
"From the global community perspective, we would need indeed to watch very closely what is happening to Russia… We also have to pay attention to what is done for Ukraine, so that Ukraine is able to meet the challenge of the prospective long-term reform, and so that Ukraine is able to solve the issue of accessing energy resources, able to face the new threats related to the conflict between it and Russia…We may not be sure that the conflict is about to end… The support for Ukraine should be at the core of any comprehensive global strategy", he stressed. According to Professor Lawrence, Ukraine has an extraordinary potential, and the global community, in unity with the Ukrainian State, will do its best to ensure it's implementation.
At the same time, Dominique Strauss-Kahn, IMF managing director (2007-2011), who also took part in the panel, agreed with the need to solve the Ukraine-Russia conflict. "Negotiations should be held now, there is a need not only to simply acknowledge that there is no military solution, but negotiations should be held, obviously, relying on your key positions. Possibly, there will be a need to compromise on something, because without a compromise, there is no deal. Maybe this should be done as soon as possible, because winter is approaching, and soon there will be economic complications both in the rest of Europe, and especially here", said Strauss-Kahn.
←

Back to news list