European sanctions will make Russia and China closer, – former IMF Managing Director, Dominique Strauss-Kahn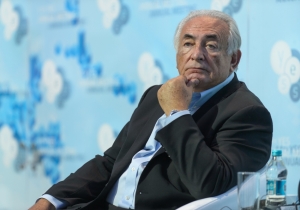 12 September 2014
Europe's sanctions against Russia due to the annexation of Crimea and the Ukrainian crisis will push the RF to get closer with China, said Dominique Strauss-Kahn, IMF managing director (2007-2011) during the panel "Global Economy and Geopolitical Risks – Disruptions from Battlefield Ukraine" at the 11th Annual Meeting of the Yalta European Strategy (YES).
"The relations between Russia and China will change, the more the West penalizes Russia with sanctions, the more Russia will be turning towards China. There is nothing bad in it, but this will have many implications for the future. We should keep this in mind and not consider only the short-term implications", said Strauss-Kahn.
In his opinion, the short-terms implications consist in the fact that the sanctions will damage not only the Russian economy, but also the European one. "We will see what will be happening in winter, what will be happening with the gas. One may do nothing, or one may shut the valve, but in between these two poles, there is a wide range of possibilities. The economic situation in Europe will degrade, I mean Ukraine as well", said the former IMF managing director.
Strauss-Kahn added also that it is unlikely that the European sanctions would affect the Russian approaches.
Another participant of the discussion – director of the Institute of Economics, Russian Academy of Sciences, Ruslan Grinberg – pointed out that the EU sanctions would largely boost the isolationist tendencies of Russia. "At the same time, I cannot say that it is a big mistake from the part of the West to introduce sanctions. The sanctions start working… But it would be very unwise from the part of the West, after the signature of the cease-fire agreement, to boost the sanctions, this would be fully unproductive", believes Grinberg.
Ronnie C.Chan, chairman of Hang Lung Properties Ltd, who also took part in the panel, agreed that the future is with Asia. "Yalta European Strategy is sort of a political statement, your future is in Europe, from the political point of view, but your economic future, ladies and gentlemen, is Asia", said Ronnie C.Chan.
He called on Victor Pinchuk, the founder and member of the Board of YES, to launch Yalta Asian Strategy.
Yalta European Strategy (YES) is the leading public diplomacy platform in Eastern Europe to develop strategies for Ukraine and Wider Europe and promote Ukraine's European integration. YES was established in 2004 by Ukrainian businessman and public figure Victor Pinchuk and is led by a distinguished board including President of Poland (1995-2005) Aleksander Kwasniewski, former Secretary General of NATO (1995-1999) and EU High Representative for Foreign and Security Policy (1999-2009) Javier Solana, and others.
The 11th Yalta European Strategy (YES) Annual Meeting will be streamed live at yes-ukraine.org in English and Ukrainian.
The official Twitter of the 11th YES Annual Meeting: @YES_Ukraine, Hashtag: #YESUkraine2014
Special Partners of the 11th YES Annual Meeting include:
DTEK, ALFA-BANK (UKRAINE), BURISMA HOLDINGS
Partners of the 11th YES Annual Meeting are:
SHELL, INTERNATIONAL RENAISSANCE FOUNDATION
Media Partners of the 11th YES Annual Meeting are:
ICTV, UKRAYINSKA PRAVDA, NOVOYE VREMYA STRANY (NV), ERA FM
←

Back to news list