Development of transnational companies requires new approach to taxation – Summers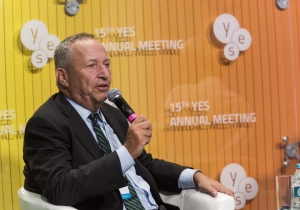 14 September 2018
With transnational companies expanding operations, there is a need for a new, internationally agreed taxation system, Harvard University Professor, Larry Summers, has said at the 15th Yalta European Strategy (YES) Annual Meeting "The Next Generation of Everything", organized by the Victor Pinchuk Foundation.
"We need to make sure that international corporations are made subject to international taxation. Otherwise, they can simply avoid paying any taxes. We need to work in the framework of global taxation which would make tax evasion impossible," Summers said.
The Professor said it was a mistake on the part of Trump administration to lower the US corporate tax.
"I think the US administration made a historic mistake with the corporate tax… If someone thought that other countries would also start reducing taxes on corporate profits, they were wrong. Eventually, some country would simply cancel these taxes to attract corporations," Summers added.
The official Twitter handle of the 15th YES Annual Meeting is @yes_ukraine, and participants and followers can include the hash tag: #YESUkraine2018
Partners of 15th YES Annual Meeting:
Arawak Energy, Hillmont Partners, lifecell, International Renaissance Foundation, Western NIS Enterprise Fund (WNISEF).
Media partners of 15th YES Annual Meeting:
Dzerkalo Tyzhnya (DT.UA), European Pravda, ICTV, Liga.net, Novoye Vremya Strany (NV), PRYAMIY Channel, Radio NV, The Kyiv Post.
←

Back to news list