Russia will not stop its aggression unless it has to pay a higher price - Pavlo Klimkin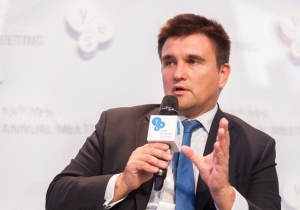 17 September 2016
Russia will not stop trying to destroy democratic Ukraine and therefore the civilised world must do everything in its power to increase the price it will have to pay for its continued aggression, Ukrainian Foreign Minister, Pavlo Klimkin, said at the 13th Yalta European Strategy (YES) Annual Meeting.
"I do not expect Russia to stop trying to destroy Ukraine tomorrow, the day after tomorrow, in a month or in six months time. A European and democratic Ukraine is a fundamental challenge for Russia. To make Russia stop we have to increase the cost it will bear if it continues its aggression," he said.

In Klimkin's opinion, Russia and its state-owned companies will not be able to last much longer without access to the global financial markets in the West.
"Russia needs to refinance state-owned enterprises: by less than 20 billion dollars this year but definitely more than 100 billion next year. Russia is simply unable to access this money in Hong Kong or Singapore, so it will have to go to London, Frankfurt and New York," he added.
←

Back to news list