Full-fledged artificial intellect may be created by 2029 - Ray Kurzweil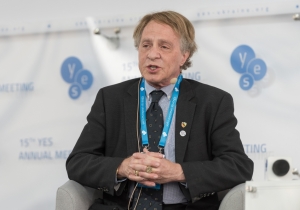 14 September 2018
The creation of artificial intellect that would be comparable in its capacity to the human intellect is possible before 2029, thinks inventor, author, futurist Ray Kurzweil.
"There are two aspects: hardware and software … Processors have already the capacity that is equivalent to 100 thousand human brains. As for the software, there is also the wonderful progress in solution of key issues. I believe that by 2029, creation of the full-fledged artificial intellect may be expected", he said at the 15th Yalta European Strategy (YES) Annual Meeting themed "The Next Generation of Everything" and organized by the Victor Pinchuk Foundation.
Ray Kurzweil added that the artificial intellect will not be something detached from a human, but it will be an extension and a complement to the human brain.
"These are not some extraterrestrials or aliens from Mars, it will be our extension… We will just merge", the inventor said.
According to Ray Kurzweil, the human life may be prolonged, and the capacity of the brain may be much extended thanks to the use of artificial intellect.
Also, the inventor believes that thanks to the new technologies, such common domains of life will get automated in the near future as agriculture: it will become possible to use up to 90% of soils that are not cultivated now.
The official Twitter handle of the 15th YES Annual Meeting is @yes_ukraine, and participants and followers can include the hash tag: #YESUkraine2018
Partners of 15th YES Annual Meeting:
Arawak Energy, Hillmont Partners, lifecell, International Renaissance Foundation, Western NIS Enterprise Fund (WNISEF).
Media partners of 15th YES Annual Meeting:
Dzerkalo Tyzhnya (DT.UA), European Pravda, ICTV, Liga.net, Novoye Vremya Strany (NV), PRYAMIY Channel, Radio NV, The Kyiv Post.
←

Back to news list