NATO's first priority in cooperation with Ukraine is the support of reforms, Assistant Secretary General of the North Atlantic Treaty Organization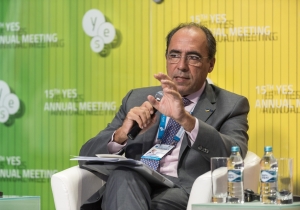 14 September 2018
The NATO's primary task in cooperation with Ukraine is to support and assist with the implementation of fundamental reforms, said Alejandro Alvargonzález, Assistant Secretary-General for Political Affairs and Security Policy, NATO, at the 15th Annual Meeting of the Yalta European Strategy (YES) "The Next Generation of Everything" organized by the Victor Pinchuk Foundation.
"Ukraine is now experiencing a situation where we need to go back to some basic principles and compromises. Such a compromise was reached in 2008 in Bucharest and confirmed at the latest summit in Brussels, where Ukraine's intention to join the NATO was recognized. There were certain difficulties in the past, but I think sooner or later it will come true. By that time, we will be doing our best to assist Ukraine. We will support it on the path of reforms that are comprehensive and important in turning Ukraine into a stronger country," said Alvargonzález.
In reference to NATO's relationship with Russia, the Assistant Secretary-General noted that policy was based on deterrence and dialogue. For the effective deterrence, all 29 Allies should remain united – that is what counts above all.
"The Russian scenario is to provoke us daily, but there is a common understanding and policy with regard to Russia which is supported by all members. It consists of deterrence and dialogue. When talking about deterrence, we are talking about the military capacity and the political will to use it if necessary. Unity is of great importance for NATO, as no unity translates into no deterrence. All NATO Member countries have a clear understanding of how it should work," added the Alvargonzález..
The official Twitter handle of the 15th YES Annual Meeting is @yes_ukraine, and participants and followers can include the hash tag: #YESUkraine2018
Partners of 15th YES Annual Meeting:
Arawak Energy, Hillmont Partners, lifecell, International Renaissance Foundation, Western NIS Enterprise Fund (WNISEF).
Media partners of 15th YES Annual Meeting:
Dzerkalo Tyzhnya (DT.UA), European Pravda, ICTV, Liga.net, Novoye Vremya Strany (NV), PRYAMIY Channel, Radio NV, The Kyiv Post.
←

Back to news list