The 2nd YES University discussed a probability of the new Cold War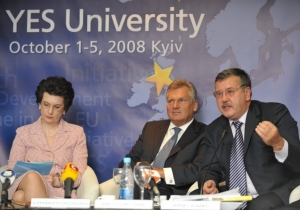 03 October 2008
Today the 2nd YES University, forum of the young political leaders of Europe organized within the framework of the Program Yalta European Strategy of the Victor Pinchuk Foundation, proceeds with its work.
The second day focuses on the issues that have become urgent amid the latest happenings in the world, in particular, probability of new Cold War and role of information wars in society building.
Major attention of participants and mass media was drawn to the plenary session "Are we back to Cold War?" that has opened the day. Its panelists were Mr. Charles Tannock, MEP; Mrs. Nino Burdzhanadze, Chair of Parliament of Georgia (2004-2008); Mr. Aleksander Kwa?niewski, President of Poland (1995-2005); Mr. Anatoliy Hrytsenko, Chairman of Verkhovna Rada Committee for the National Security and Defense and Mr. Sergey Glazyev, Director of the Institute of New Economy of Russian Federation.
Debating on probable recurrence of the Cold War, the panelists concurred that it would not look like in the late 20th century. More probable, they agreed, is "cold peace" (term coined by Charles Tannock). According to Mr. Tannock, there are no pre-requisites for opposition of Russia and the West as the former is committed to developing constructive dialogue with the world, molding positive image for potential investors and boosting its competitiveness amid emerging new strong economies as China or India.
Nino Burdzhanadze voiced her opinion that recent events in Georgia did not relate to so called "Georgian Issue" but rather to the next step in establishing the new world order. She stressed the necessity for the countries to build synergy around the common values based on mutual respect.
The above session was followed by panel "Media in Information Wars" featuring renowned Ukrainian journalists Mr. Oleksander Martynenko, Mr. Vitaly Portnikov, Mr. Vakhtang Kipiani, Mr. Iskander Khisamov and Mr. Yegor Sobolev. The pivotal issue of the debates was necessity of information security and its relation to censorship. According to the panelists, press freedom should not be restricted. The only restricting factor could be professional journalism standards, which ensure proper level of information content. It is freedom and impartiality of press that can guarantee security of the civilized society.
The first part of the day work was closed with three parallel workshops "Towards European Common Foreign Defense and Security Policy", "Role of Central and Eastern European states in the new foreign policy" and "Stopping Energy Policy blackmailing".
The second day of the forum was accomplished with Mr. Arseniy Yatseniuk's speech at the plenary session "Generation Change in Politics".
←

Back to news list