We will not be able to compete with 'Nord Stream 2' through lower tariffs due to political bias of the project, says Andrii Koboliev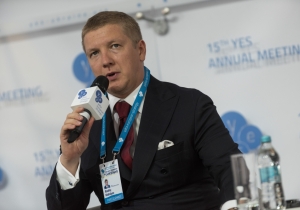 15 September 2018
The construction of 'Nord Stream 2' is politically driven and, if the project is completed, it will not be possible to compete with it by offering lower tariffs", said Chairman of the Board of Directors of NJSC "Naftogaz Ukraine", Andrii Koboliev, at the 15th Annual Meeting of the Yalta European Strategy (YES) "The Next Generation of Everything", organized by the Victor Pinchuk Foundation.
"It always makes me smile when someone offers the argument that we will be able to compete with 'Nord Stream 2' through tariffs and different conditions and that the fight has not been lost yet. It is already lost. If we refer to 'Nord Stream 1', in the time of its construction, Ukraine had the lowest tariffs among all European countries. The project was completed anyway, and all gas that used to be transported through our system was transferred to "Nord Stream 1", he said.
Koboliev emphasized that 'Nord Stream 2' provides no economic advantage but actually brings about great geopolitical threats.
'Nord Stream 2' is a much bigger problem than just a gas issue. It comes down to Ukraine's security, and one would not exaggerate to say that it is a question of our survival. If there is no transit [through Ukraine], we are sure that this will open the door to a full-scale military aggression against Ukraine. It is not only about Ukraine's money, or money of Naftogaz. It is not only about our safety, but of the European Union's as well. Now, Ukraine, who is fighting for its independence and trying to protect itself as well as the European Union, stands between Russia and the EU. If not us, there will be no one," added the Chairman of the Board of Directors of NJSC "Naftogaz Ukraine".
Koboliev believes that in order to stop the 'Nord Stream 2' project, simply applying the relevant European energy law would be enough.
"If we speak about the position of Germany, it always surprised me that the German government constantly insisted on the non-application of the EU Third Energy Package to 'Nord Stream 2'. It would sound much more pragmatic if they said: "We need a gas pipeline, but we are also willing to apply the Third Energy Package". This would limit Russia's monopoly in the gas transportation to the EU. This would be a more understandable position that takes into account the interests of all companies operating in Russia, which would be absolutely logical," he said.
The Chairman of the Board of Directors of "Naftogaz Ukraine" assumed that such a position can be explained by fear.
"German politicians suggest the Third Energy Package not to be applied in this case. I know why. If they speak in favor of the application, Putin will not be happy. And they do not want to disappoint the Russians, they are afraid of them. I think this is the main influence behind this project. Russia uses different instruments to influence political processes – we witnessed it in the UK, we witnessed it in Germany. We can see this fear. I think this is a Russian bluff that we have to overcome," Koboliev summed up.
The official Twitter handle of the 15th YES Annual Meeting is @yes_ukraine, and participants and followers can include the hash tag: #YESUkraine2018
Partners of 15th YES Annual Meeting:
Arawak Energy, Hillmont Partners, lifecell, International Renaissance Foundation, Western NIS Enterprise Fund (WNISEF).
Media partners of 15th YES Annual Meeting:
Dzerkalo Tyzhnya (DT.UA), European Pravda, ICTV, Liga.net, Novoye Vremya Strany (NV), PRYAMIY Channel, Radio NV, The Kyiv Post.
←

Back to news list