The Victor Pinchuk Foundations announces a competition among scholarship holders of Zavtra.UA and WorldWideStudies programs to participate in the 9th Yalta Annual Meeting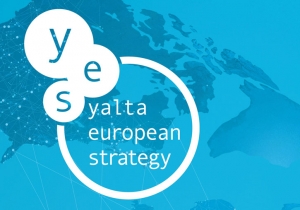 23 July 2012
The Victor Pinchuk Foundation announces a competition among Zavtra.UA and WorldWideStudies scholars to participate in the 9th Annual Meeting of Yalta European Strategy (YES) to be held on September13-16, 2012, in the historic Livadia Palace in Yalta.
This year's topic of the Yalta Annual Meeting is "Ukraine and the World: Addressing Tomorrow's Challenges Together." The Forum will bring together about 200 guests, including business leaders, politicians, leading experts and media representatives, to discuss global challenges and their impact on Europe and Ukraine. A special part of the event will be devoted to the situation in Ukraine and prospects for the country's development.
For the third consecutive year the Victor Pinchuk Foundation welcomes Zavtra.UA and WorldWideStudies scholarship holders, selected through an open competition, to the Yalta Annual Meeting. Young people will be able to listen to the world-class speakers, and meet and talk to famous and prominent people. Additionally, young scholars will be offered a chance to share their personal visions with YES audience.
Key requirements for potential candidates: fluent English, responsibility and prompt reaction, willingness to discuss economic, political and social problems.
To participate in the contest, please send a written essay (1,800 characters max.) on "Three most important global challenges affecting Ukraine" and a completed application form by 15:00, August 13, 2012, to [email protected]. Please state 'Competition Yalta-9' in the subject line.
←

Back to news list