Ukraine's default is unlikely, – NBU head Valeria Gontareva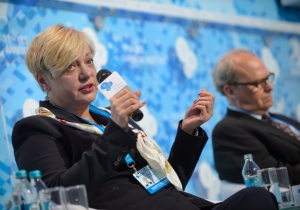 13 September 2014
There are no grounds to talk about Ukraine's default, despite the negative credit scores and negative prediction indicators, said head of the National Bank of Ukraine Valeria gontareva during the panel "Ukraine's Economy and Institutions: Reform Now - or Collapse" at the 11th Annual Meeting of the Yalta European Strategy (YES) on Saturday in Kyiv.
"I have been working in the financial sector for 23 years, and for 23 years I have been hearing about a default. The first such statement appeared in 1995, and since then, we have been talking about it continuously. Ukraine's rating is ССС, but so far, we have no grounds to talk about a default approaching",said the head of the National Bank.
Valeria Gontareva added the State operates with its liabilities, including Naftogaz Ukraine's bonds, and has a joint programme with the International Monetary Fund.
At the same time, the head of the NBU admitted that the economic situation in Ukraine is heavy, as the country is exhausted by the war in the East.
The global rating agency Fitsch lowered Ukraine's default long-term rating in the national currency from B- down to CCC.
Yalta European Strategy (YES) is the leading public diplomacy platform in Eastern Europe to develop strategies for Ukraine and Wider Europe and promote Ukraine's European integration. YES was established in 2004 by Ukrainian businessman and public figure Victor Pinchuk and is led by a distinguished board including President of Poland (1995-2005) Aleksander Kwasniewski, former Secretary General of NATO (1995-1999) and EU High Representative for Foreign and Security Policy (1999-2009) Javier Solana, and others.
The 11th Yalta European Strategy (YES) Annual Meeting will be streamed live at yes-ukraine.org in English and Ukrainian.
The official Twitter of the 11th YES Annual Meeting: @YES_Ukraine, Hashtag: #YESUkraine2014
Special Partners of the 11th YES Annual Meeting include:
DTEK, ALFA-BANK (UKRAINE), BURISMA HOLDINGS
Partners of the 11th YES Annual Meeting are:
SHELL, INTERNATIONAL RENAISSANCE FOUNDATION
Media Partners of the 11th YES Annual Meeting are:
ICTV, UKRAYINSKA PRAVDA, NOVOYE VREMYA STRANY (NV), ERA FM
←

Back to news list