Global threats can only be prevented with consolidated effort - Yuval Harari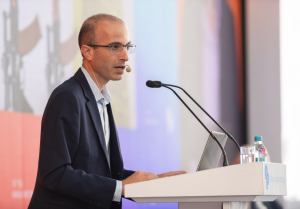 13 September 2019
The global threats of the 21st century can only be prevented through the consolidated effort of all mankind, says Professor Yuval Harari of the Hebrew University of Jerusalem, expressed when speaking at 16th Yalta European Strategy (YES) Annual Meeting, "Happiness Now. New Approaches for a World in Crisis" organised by the Victor Pinchuk Foundation.
"Global cooperation is needed because the three biggest challenges of the 21st century: war, climate change, and technological threats, are global in nature, and no state can handle them alone. One state cannot prevent nuclear war, or stop climate change, or biotechnology change. No government is able to control all the technologists and engineers across the world. No country is able to develop more actively without cooperating with other countries," he said.
As a consequence, Yuval Harari added that society and politicians should refocus their attention.
"See how much energy and time the most influential people in the world have spent on Brexit over the last four years. Instead of spending them, for example, on climate change, it is just shocking. I am not saying Brexit is a bad or a good idea. The point is that this choice is an opportunity cost. In 20 years, as we are explaining to the next generation why nothing was done in time to combat climate change or govern and manage the effects of artificial intelligence, we will respond that "we had Brexit, and it looked much more important to us," he added.
←

Back to news list