Yuri Lutsenko: large privatization, the use of natural resources and an overhaul of customs is needed to overcome corruption in Ukraine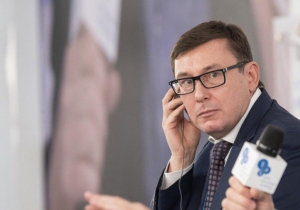 15 September 2018
In order to effectively fight corruption in Ukraine, large-scale privatization of state-owned enterprises should be implemented, shadow schemes at the customs should be destroyed and the use of natural resources should be implemented, said Prosecutor General of Ukraine Yuri Lutsenko, at the 15th Yalta European Strategy (YES) Annual Meeting themed "The Next Generation of Everything" and organized by the Victor Pinchuk Foundation.
"The Leadership and society need to bridge at least three key gaps that are sources of corruption in Ukraine. The first national-scale source [of corruption] is the huge state-owned sector. There are three thousand state-owned enterprises in Ukraine – there is no other place like that except for China. Out of those, 70% declare that they are loss-making. Loss-making for the State, however, they are much more profitable for all the party bosses both in the opposition and in the coalition", said Lutsenko.
In the Prosecutor General's opinion, a large privatization can provide a solution to the problem.
The other two major sources of corruption, according to Lutsenko, are the operation of the customs and the State Service of Geology Natural Resources. "It is evident to everybody, that 30% of the customable goods bypass the state's pocket. A special regime should be introduced, and that is what I hope the Government has already started doing. The third problem is issuing licenses for mineral wealth extraction, and this is the foundation for the whole Ukrainian oligarchy", the Prosecutor General said.
In Lutsenko's opinion, the fight against corruption exclusively through criminal prosecution will not produce the desired effect. "Ukraine is a huge boat: the lower holds of which were full of water after the revolution. Installing a pump and getting rid of the water without plugging the gaps in the budget, these colossal opportunities, is a Sisyphean task", concluded the Prosecutor General.

The official Twitter handle of the 15th YES Annual Meeting is @yes_ukraine, and participants and followers can include the hash tag: #YESUkraine2018
Partners of 15th YES Annual Meeting:
Arawak Energy, Hillmont Partners, lifecell, International Renaissance Foundation, Western NIS Enterprise Fund (WNISEF).
Media partners of 15th YES Annual Meeting:
Dzerkalo Tyzhnya (DT.UA), European Pravda, ICTV, Liga.net, Novoye Vremya Strany (NV), PRYAMIY Channel, Radio NV, The Kyiv Post.
←

Back to news list