Yulia Tymoshenko calls for the creation of a free market for gas and cease government regulation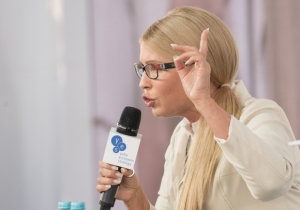 15 September 2018
Ukraine needs to build a free market for gas and cease the practice of the government establishing prices for the population, said member of Ukrainian Parliament and Head of Batkivschyna party, Yulia Tymoshenko, at the 15th Yalta European Strategy (YES) Annual Meeting themed "The Next Generation of Everything" and organized by the Victor Pinchuk Foundation.
"Regarding the tariffs, the answer is very simple: I believe in the market. If the natural gas market is built in Ukraine, we will see the prices being regulated by market. My strategy consists of creating real markets instead of regulating prices for butter, bread, gas, electricity etc. by government decrees", she said.
Tymoshenko continued that, in her opinion, insufficient efforts have been made recently to establish this free market.
"One should not confuse "Gas Market" laws and how they are adopted, because while we have these laws, at at the same time, we also independent suppliers who are not allowed to supply gas to the country and sell it through exchanges, for example. I do not understand how a market can be created when licenses to develop gas fields are issued exclusively to the corrupt entourage of one person, whose name I remember very well. I want to ask, how a gas market may exist if, in the last four-and-a-half years, not a single step has been made to bring liquefied gas into Ukraine, just as it has been done in the rest of Europe?", she questioned.
The official Twitter handle of the 15th YES Annual Meeting is @yes_ukraine, and participants and followers can include the hash tag: #YESUkraine2018
Partners of 15th YES Annual Meeting:
Arawak Energy, Hillmont Partners, lifecell, International Renaissance Foundation, Western NIS Enterprise Fund (WNISEF).
Media partners of 15th YES Annual Meeting:
Dzerkalo Tyzhnya (DT.UA), European Pravda, ICTV, Liga.net, Novoye Vremya Strany (NV), PRYAMIY Channel, Radio NV, The Kyiv Post.
←

Back to news list