Yulia Tymoshenko: Integration of occupied territories but with the preservation of Russian control is unacceptable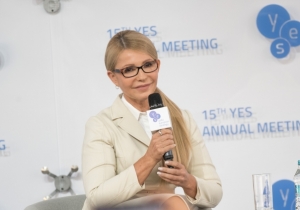 15 September 2018
Return of the temporarily occupied territories of the Donbas and Crimea to Ukraine while Russia's control over them remains is unacceptable, said Yulia Tymoshenko, Member of Parliament, and leader of the political party "Batkivshchyna" at the 15th Annual Meeting of the Yalta European Strategy (YES) "The Next Generation of Everything", organized by the Victor Pinchuk Foundation
"We need peace, but not at the price of the capitulation of Ukraine. It's no good to offer Ukraine ways out which, somehow, turn certain parts of its territory into semi-Ukrainian areas, or re-integrate them into Ukraine while remaining fully subordinate to the aggressor country. This cannot come to pass. We need a real peace," she said.
Yulia Tymoshenko pointed out that Ukraine will only accept a complete restoration of territorial integrity with the demilitarization of the occupied territories. "I do not want any frozen conflicts or hybrid peace to be passed in lieu of a real solution. The issue should be resolved in full", she added.
Yulia Tymoshenko also emphasized that the Crimea issue should, by no means, be removed from the agenda.
"The worst thing we can do is to cast this issue aside, or completely forget about it, or pretend that we have forgotten. In the meantime, from time to time in some European countries, maps of Ukraine without Crimea pop up and instead, Crimea is attached to the aggressor country. It cannot become a slow process for the whole world and Ukraine to get accustomed to the fact that Crimea is already gone. This will not happen," said the leader of the Batkivshchyna party.
Yulia Tymoshenko added that Ukraine needed a new strategy for restoration of peace in the Donbas and the return of Crimea, which can be based on the Budapest memorandum.
"I am holding here the Budapest memorandum. I am opposed to the idea of throwing it away and pretending that it does not exist. I think that after the rebooting of the Ukrainian government, we will have every opportunity to open a new door, without destroying the achievements of the Minsk accords, and spell out new strategies. One of them is the fulfillment of the guarantees that were given to Ukraine, and the return to the Budapest format", summed up Tymoshenko.
The official Twitter handle of the 15th YES Annual Meeting is @yes_ukraine, and participants and followers can include the hash tag: #YESUkraine2018
Partners of 15th YES Annual Meeting:
Arawak Energy, Hillmont Partners, lifecell, International Renaissance Foundation, Western NIS Enterprise Fund (WNISEF).
Media partners of 15th YES Annual Meeting:
Dzerkalo Tyzhnya (DT.UA), European Pravda, ICTV, Liga.net, Novoye Vremya Strany (NV), PRYAMIY Channel, Radio NV, The Kyiv Post.
←

Back to news list