Probability of Donald Trump's impeachment is about 20%, according to BBC and CNN journalists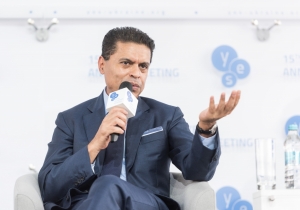 15 September 2018
The probability that the US president, Donald Trump, will soon be impeached is about 20%, according to Fareed Zakaria, host of the Fareed Zakaria GPS show on CNN, and Stephen Sackur, host of the HARDtalk show on BBC.
"At the beginning of last year, I would say that Trump's chances of impeachment was only 5%, now it's some 15-20%, but I still think that the probability is actually low. However, the fact that all these people (Paul Manafort and other persons involved) are cooperating with Robert Muller essentially raises the chance," said Fareed Zakaria, speaking at the 15th Annual Meeting of the Yalta European Strategy (YES) "The Next Generation of Everything" organized by the Victor Pinchuk Foundation.
The CNN journalist added that US president has taken many steps in order to find support among his electorate.
"He reduced taxes, deregulated the economy, and appointed conservative judges. He stands firm in various areas relating to law and order – so the conservatives are pleased. He has succeeded much more than his enemies recognize," he added.
In turn, Stephen Sackur from the BBC agreed that the investigation of special attorney, Robert Mueller raises the probability of impeachment.
"Robert Mueller hit a nerve, and now there is a lot to investigate, and Donald Trump is obviously very concerned. There is a probability of about 10-20% percent that Donald Trump will not serve his full term as president. Of course it will be terrible, the situation will be toxic and polarized," he said.
The official Twitter handle of the 15th YES Annual Meeting is @yes_ukraine, and participants and followers can include the hash tag: #YESUkraine2018
Partners of 15th YES Annual Meeting:
Arawak Energy, Hillmont Partners, lifecell, International Renaissance Foundation, Western NIS Enterprise Fund (WNISEF).
Media partners of 15th YES Annual Meeting:
Dzerkalo Tyzhnya (DT.UA), European Pravda, ICTV, Liga.net, Novoye Vremya Strany (NV), PRYAMIY Channel, Radio NV, The Kyiv Post.
←

Back to news list