The EU and the USA should join the negotiations between the RF and Ukraine to eliminate the conflict in Donbas – Yatsenyuk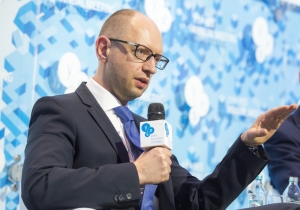 13 September 2014
The European Union and the United States of America should join the negotiations to eliminate the conflict in Donbas, otherwise, in a face-to-face situation, Russia may outplay Ukraine, stated Prime Minister of Ukraine Arseniy Yatsenyuk at 11th Annual Meeting of "Yalta European Strategy" (YES) on Saturday in Kyiv.
"I am for the Geneva format of the negotiations where the USA, the EU, Ukraine and Russia will be involved. We are not so strong to negotiate on a bilateral basis, Russia will outplay us, Putin desires to get yet another frozen conflict", - said Yatseniuk.
According to him, the President of Russia wants to get not Donetsk and Luhansk regions, but the entire Ukraine, since Putin can't accept its European ambitions and dreams to restore the USSR.
Yatseniuk also added that the successful reforms in Ukraine are possible only upon the war in the east of the country is over. "The key priority not only for Ukraine, but for the entire world is to deter Russia and stop the war. This is the key prerequisite for further reforms. If we manage to stop the war, if we manage to deter Russia, we'll have a chance to engage international investors - since, you know how difficult it is to attract them when Russian tanks and artillery are already in your country – to restore confidence in local investors and positively focus on the reforms our country needs", - assured the Premier.
Yalta European Strategy (YES) is the leading public diplomacy platform in Eastern Europe to develop strategies for Ukraine and Wider Europe and promote Ukraine's European integration. YES was established in 2004 by Ukrainian businessman and public figure Victor Pinchuk and is led by a distinguished board including President of Poland (1995-2005) Aleksander Kwasniewski, former Secretary General of NATO (1995-1999) and EU High Representative for Foreign and Security Policy (1999-2009) Javier Solana, and others.
The official Twitter of the 11th YES Annual Meeting: @YES_Ukraine, Hashtag: #YESUkraine2014
Special Partners of the 11th YES Annual Meeting include:
DTEK, ALFA-BANK (UKRAINE), BURISMA HOLDINGS
Partners of the 11th YES Annual Meeting are:
SHELL, INTERNATIONAL RENAISSANCE FOUNDATION
Media Partners of the 11th YES Annual Meeting are:
ICTV, UKRAYINSKA PRAVDA, NOVOYE VREMYA STRANY (NV), ERA FM
←

Back to news list