YES is to assist in building new Ukraine – Pinchuk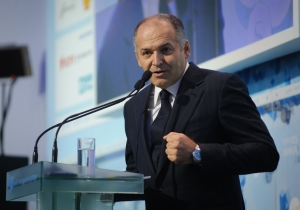 12 September 2014
The meetings of Yalta European Strategy (YES) are to assist in building new Ukraine when the war ends, said Victor Pinchuk, the founder and member of YES Board, opening 11th YES Annual Meeting entitled "New Ukraine, New Europe, New World: Building and Defending" on Friday in Kyiv.
"Yalta European Strategy is to become a call for action to bring peace, to develop Ukraine," said Pinchuk.
He mentioned that the Yalta Conference in February 1945 – where the leaders of the USA, the United Kingdom and the USSR met – had the goal to address the issue of ending the World War II and decide on the post-war world structure, while YES may help plan a post-war structure of the modern Ukraine and the world. "I pray for our war to end. We can help plan a much more fair post-war pattern than the one accepted in 1945", - stated the founder of the Yalta European Strategy.
Pinchuk recalled that for ten years, this forum had been held at its traditional place – Livadia Palace in Yalta – and now it has moved to the capital of Ukraine due to the Crimea's annexation by Russia. "Now the history came to us. The Ukrainians died for their values, the Ukrainians died for our country", - said YES founder and called the forum's participants to observe a moment of silence in tribute to the memory of those who died.
Yalta European Strategy (YES) is the leading public diplomacy platform in Eastern Europe to develop strategies for Ukraine and Wider Europe and promote Ukraine's European integration. YES was established in 2004 by Ukrainian businessman and public figure Victor Pinchuk and is led by a distinguished board including President of Poland (1995-2005) Aleksander Kwasniewski, former Secretary General of NATO (1995-1999) and EU High Representative for Foreign and Security Policy (1999-2009) Javier Solana, and others.
The 11th Yalta European Strategy (YES) Annual Meeting will be streamed live at yes-ukraine.org in English and Ukrainian.
The official Twitter of the 11th YES Annual Meeting: @YES_Ukraine, Hashtag: #YESUkraine2014
Special Partners of the 11th YES Annual Meeting include:
DTEK, ALFA-BANK (UKRAINE), BURISMA HOLDINGS
Partners of the 11th YES Annual Meeting are:
SHELL, INTERNATIONAL RENAISSANCE FOUNDATION
Media Partners of the 11th YES Annual Meeting are:
ICTV, UKRAYINSKA PRAVDA, NOVOYE VREMYA STRANY (NV), ERA FM
←

Back to news list