Peacekeeping mission in Donbass only on condition of external border control - John Kerry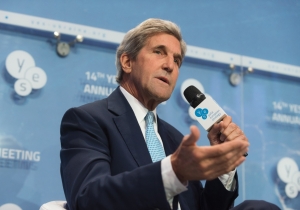 15 September 2017
If a peacekeeping contingent is deployed to Donbass, it must secure control over Ukraine's external border, former US Secretary of State (2013-2017), John Kerry, has said at the 14th Yalta European Strategy Annual Meeting, organised by the Victor Pinchuk Foundation.
"You have to be really careful that it is not a trap. If you've got this exclusively on the line of contact, then this can conceivably become the de facto recognition of this line of contact as meaning something. It has to be comprehensive throughout Donbass and particularly on the external border. We've got to test the legitimacy of this offer," he said.
Kerry added that he found the pace of the Minsk process very frustrating.
"In my meetings with Putin in Moscow we outlined several times ways we thought that Minsk [process] could have advanced significantly faster and more effectively. And then weeks would go by and there was no meeting," he noted.
However, Kerry said that the USA would continue to provide active assistance to Ukraine amid Russian aggression.
Kerry will also give a lecture for students titled "Can diplomacy overcome the challenges of a new world?", within the framework set out by the 14th Yalta European Strategy Annual Meeting.
The online stream of the Yalta European Strategy (YES) 14th Annual Meeting will be available online at yes-ukraine.org as well as on the websites of our media partners, in both English and Ukrainian.
The official Twitter of the 14th YES Annual Meeting is @yes_ukraine, and participants and followers can include the hash tag: #YESUkraine2017
←

Back to news list