Hydrocarbon and the sun will compete for energy market leadership in the next hundred years – Shell forecasts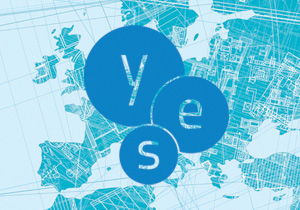 20 September 2013
Next century the global energy market could develop in one of two directions: either hydrocarbons (scenario "Mountain") or solar energy (scenario "Oceans") will become the major energy source, Graham Tiley, Country Chair, Shell Ukraine, stated on Friday at the 10th Annual Meeting of YES "Changing Ukraine in a Changing World: Factors of Success" held in the Crimean Livadia Palace.
Next century the global energy market could develop in one of two directions: either hydrocarbons (scenario "Mountain") or solar energy (scenario "Oceans") will become the major energy source, Graham Tiley, Country Chair, Shell Ukraine, stated on Friday at the 10th Annual Meeting of YES "Changing Ukraine in a Changing World: Factors of Success" held in the Crimean Livadia Palace.
Graham told the audience that almost every week the world gives birth to a city with over a million residents, so it's hard to imagine how we will be able to deliver energy to meet the needs of all those people. Shell has developed two scenarios which show what is most likely to happen in the future. .
"A top-down approach may generate a scenario in which the major energy source is hydrocarbons. This will make it possible for us to stop using from liquid fuels. Hydrocarbons will need an infrastructure. With no political will, or alliances between companies and governments, this transition will be very hard", Tiley said during the discussion "Energy: Threat, Solutions, Revolutions", on Friday 20th September.
"In our other scenario, which we call "Oceans", we see a more turbulent world, with new entrepreneurs, in which ideas emerge much faster. This will be a world of faster economic growth, where both demand and supply are much stronger. However, it is also a world with competitive voices, which, when we'll need consensus to move forward, crucial changes will be much harder to make. In this world of tough demand and supply, because of very high energy prices, solar energy may see much quicker development and become the most powerful energy resource by the end of the century," Shell's chair in Ukraine finished.
President of Ukraine Viktor Yanukovych and President of the Republic of Lithuania
Dalia Grybauskaitė officially opened the 10th Yalta Annual Meeting on September 20th. They presented their visions on how to create synergies for Wider Europe.
The 10th Yalta Annual Meeting will focus on factors of success that create strong, competitive, sustainable and fair countries and societies. Among the topics will be the global economy, energy security, threats and innovations transforming our lives, as well as successful leadership approaches. Special attention will be paid to the future of Wider Europe and Ukraine's cooperation and integration perspectives.
Among the speakers are Carl Bildt, Minister for Foreign Affairs of Sweden; Stefan Fule, EU Commissioner for Enlargement and European Neighbourhood Policy; Sergey Glazyev, Advisor to the President of the Russian Federation; Kairat Kelimbetov, Vice Prime Minister of Kazakhstan; Leonid Kuchma, President of Ukraine (1994 – 2005); Aleksander Kwasniewski, President of Poland (1995-2005) and Chairman of the Board of YES; Mario Monti, 54th Prime Minister of Italy (2011 – 2012); Ronald Noble, Secretary General Interpol; Gen. David H. Petraeus (US Army, Retired), Director, Central Intelligence Agency (2011 – 2012); Bill Richardson, 30th Governor of New Mexico, 9th United States Secretary of Energy (1998 – 2001); Gerhard Schröder, Chancellor of the Federal Republic of Germany (1998-2005); Radoslaw Sikorski, Minister for Foreign Affairs of Poland; Javier Solana, EU High Representative for CFSR (1999-2009), member of the Board of YES; and Lamberto Zannier, Secretary General, Organization for Security and Co-Operation in Europe.
Speakers also include leading businessmen, economists and experts: Andrei Kostin, President and Chairman of the Management Board, VTB Bank; Daphne Koller, Co-Founder, Co-CEO, Coursera; Pascal Lamy, former Director General, WTO (2005 – 2013); Nouriel Roubini, Professor, Stern School of Business, New York University; Niall Ferguson, Laurence A. Tisch Professor of History, Harvard University; Michio Kaku, physicist and futurist; Dominique Strauss-Kahn, former Managing Director of the International Monetary Fund (2007-2011); Martin Wolf, Chief Economics Commentator, The Financial Times; Robert Zoellick, former president of the World Bank (2007-2012); and others.
In addition to President Yanukovych, Ukraine is represented by Prime Minister Mykola Azarov, Yuriy Boyko, Vice Prime Minister; and Leonid Kozhara, Minister for Foreign Affairs, among others.
Chrystia Freeland, Fellow, Martin Prosperity Institute at the University of Toronto and former Editor of Consumer News, Thomson Reuters (2013), will moderate panel discussions on September 20th; Stephen Sackur, journalist and Host of HARDtalk, BBC, will moderate on September 21st.
The 10th Yalta Annual Meeting is streamed live at korrespondent.net and
yes-ukraine.org in English and Ukrainian on September 20th and 21st.
Live Webcasts will also be available on the websites of ICTV (ictv.ua), Channel 5 (5.ua), «Kommersant» newspaper (kommersant.ua), as well as the online edition of "Ukrainska Pravda» (pravda.com.ua).
The official Twitter of the 10th Yalta Annual Meeting: @yes_ukraine, hashtag: #yalta2013
Special Partners of the 10th Yalta Annual Meeting include:
DTEK
ALFA-BANK (UKRAINE)
Partners of the 10th Yalta Annual Meeting are:
Shell
Smart-Holding
DCH
Visa Inc.
International Renaissance Foundation
State Agency for Investment and National projects of Ukraine
Media-partners:
Euronews
Korrespondent
Korrespondent.net
ICTV
ERA FM
Yalta European Strategy (YES) is the largest social institution of public diplomacy in Eastern Europe, providing an open and equal dialogue on global issues affecting the European Union, Ukraine, Russia and other countries. This non-partisan organisation was established in 2004 by the Ukrainian businessman and public figure Victor Pinchuk.
The YES Annual Meetings held in Yalta's Livadia Palace have become an open platform to discuss and look for new ideas and views on paths to European, Ukrainian and global development. Every year these meetings bring together over 200 politicians, diplomats, statesmen, journalists, analysts and business leaders from more than 20 countries. The dialogue on global challenges broadens the vision on the situation inside Ukraine and the prospects for the country's development in the modern world. It is also an incentive to find common ground between countries, common interests and values.
At the YES Annual Meetings the world's top opinion leaders present their visions of current and future trends which impact all spheres of life of society. In 2010, 2011 and 2012 the events were opened by Presidents Viktor Yanukovych, Bronislaw Komorowski, Shimon Peres and Prime Minister of the Republic of Turkey Recep Tayyip Erdoğan. YES Annual Meetings key speakers have included Mykola Azarov, Kofi Annan, Egemen Bagis, Carl Bildt, Tony Blair, Gordon Brown, Richard Branson, James Wolfensohn, Newt Gingrich, Herman Gref, Arkadiy Dvorkovich, Robert Zoellick, Bill Clinton, Paul Krugman, Alexei Kudrin, Leonid Kuchma, Yuri Milner, Condoleezza Rice, Lawrence Summers,
Radoslaw Sikorski, Javier Solana, Dominique Strauss-Kahn, Shashi Tharoor, Strobe Talbott, Niall Ferguson, Vladimir Filat, Joschka Fischer, Stefan Fule, Gerhard Schroeder, Muhammad Yunus and many others.
Official website: www.yes-ukraine.org
Victor Pinchuk Foundation is an international, private and non-partisan philanthropic foundation based in Ukraine. It was established in 2006 by businessman and public figure Victor Pinchuk. Its goal is to empower future generations to become the change-makers of tomorrow. To achieve this, projects are developed and partnerships are built in Ukraine and worldwide.
in people, to boost human capital;
in society, to promote social responsibility;
in the world, to foster a more integrated world.
The projects of the Victor Pinchuk Foundation include, among others: the network of neonatal centers Cradles of Hope, the largest private scholarship programme in Ukraine, Zavtra.UA, the WorldWideStudies scholarship programme for Ukrainian students studying abroad, the centre for contemporary art PinchukArtCentre with its biannual prizes Future Generation Art Prize and PinchukArtCentre Prize. The foundation also hosts the Davos Philanthropic Roundtable and Davos Ukrainian Lunch organized each year at the occasion of the Annual Meeting of the World Economic Forum and supports the international network YES (Yalta European Strategy) to foster Ukraine's European and global integration, as well as a startup online platform for fostering philanthropy in Ukraine, the Philanthropic Marketplace. The Foundation is a member of the European Foundation Centre and the Ukrainian Grantmakers Forum. It cooperates with the Clinton Global Initiative, the Brookings Institution, the Peterson Institute for International Economics, the Peres Center for Peace, the Tony Blair Faith Foundation, and other nongovernmental organizations.
Official website: pinchukfund.org
Contact information for Media enquiries:
Tel.: +380 44 494 11 48
←

Back to news list