Vitaliy Klitchko: All the changes will start from Kyiv, and Kyiv will demonstrate an example of a European capital… We will overcome – Ukraine will be European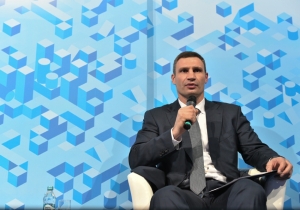 11 September 2014
At the opening reception of the 11th YES Annual Meeting opening in Kyiv, Mayor Vitaly Klitchko said he believes Ukraine will achieve European standards of living, and that Kyiv will take its place as one of the great European capitals.
"Ukrainians defend their right to live in normal European conditions, based on the European standards, and I am confident that we will provide those standards. More than a hundred people gave their lives so that these changes could happen in our country, and I am confident that changes will begin in Kyiv, and Kyiv will become a great example of a European capital, a European city. We will overcome, and Ukraine will be European", stressed the Mayor.
He made the point that the current conflict in the East of Ukraine is artificial, saying, "Without external support, without arms, without the supporters of the so-called Novorossia (a place that does not exist) who arrive from abroad and who are involved in these activities, this conflict would have never happened. It is artificial. I am sure that we Ukrainians will be united… what matters is our European future, and I am confident that we will be able to make it happen."
In conclusion, Klitchko said, "by joining forces with democratic countries that have a vision for a world at peace, we will be able to stop the aggressor".
The official Twitter of the 11th YES Annual Meeting: @YES_Ukraine, Hashtag: #YESUkraine2014
Special Partners of the 11th YES Annual Meeting include:
DTEK, ALFA-BANK (UKRAINE), BURISMA HOLDINGS
Partners of the 11th YES Annual Meeting are:
SHELL, INTERNATIONAL RENAISSANCE FOUNDATION
Media Partners of the 11th YES Annual Meeting are:
ICTV, UKRAYINSKA PRAVDA, NOVOYE VREMYA STRANY (NV), ERA FM
←

Back to news list