Volodymyr Hroisman calls for independent supervisory boards, management for mass media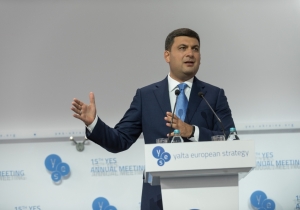 15 September 2018
Ukrainian Prime Minister Volodymyr Hroisman considers it necessary for mass media to have independent supervisory boards and management. He was speaking at the 15th Yalta European Strategy (YES) Annual Meeting "The Next Generation of Everything", organized by the Victor Pinchuk Foundation.
"I think we will get to a point when all owners of media resources decide to introduce independent management, independent administration, and independent supervisory boards. There is no better recipe," he said.
Hroisman pointed out that the state does not, and cannot, have any influence on who owns particular media outlets. "No-one can revise the right of ownership in our country," he said.
However, he added, the rhetoric of some media outlets has been aggressive towards Ukraine lately.
"With regards to mass media, this landscape has not changed for many years. Recently, it has seen a certain change. I think my Ukrainian colleagues know what I am talking about – we saw quite aggressive rhetoric concerning events in Ukraine," Hroisman said.
Nevertheless, he reiterated that any government interference in the editorial policy of a media outlet would be unacceptable.
The official Twitter handle of the 15th YES Annual Meeting is @yes_ukraine, and participants and followers can include the hash tag: #YESUkraine2018
Partners of 15th YES Annual Meeting:
Arawak Energy, Hillmont Partners, lifecell, International Renaissance Foundation, Western NIS Enterprise Fund (WNISEF).
Media partners of 15th YES Annual Meeting:
Dzerkalo Tyzhnya (DT.UA), European Pravda, ICTV, Liga.net, Novoye Vremya Strany (NV), PRYAMIY Channel, Radio NV, The Kyiv Post.
←

Back to news list