Volodymyr Hroisman stresses the importance of high-quality selection of justices to the Anti-corruption Court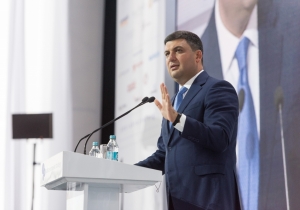 15 September 2018
It is extremely important to ensure high-quality and professional selection of justices to the newly created Anti-corruption Court, Prime Minister of Ukraine, Volodymyr Hroisman, said at the 15th Yalta European Strategy (YES) Annual Meeting "The Next Generation of Everything", organized by the Victor Pinchuk Foundation.
"The Anti-corruption court is finally established. It is important to select judges who are capable to administer and restore justice. I truly believe that after setting up a new anti-corruption independent institution, in the coming months we will be able to see real judgments in real cases," said Volodymyr Hroisman.
The Prime Minister is convinced that the effective operation of the new Anti-corruption court will help to restore the sense of justice and public confidence in the judiciary as a whole.
The official Twitter handle of the 15th YES Annual Meeting is @yes_ukraine, and participants and followers can include the hash tag: #YESUkraine2018
Partners of 15th YES Annual Meeting:
Arawak Energy, Hillmont Partners, lifecell, International Renaissance Foundation, Western NIS Enterprise Fund (WNISEF).
Media partners of 15th YES Annual Meeting:
Dzerkalo Tyzhnya (DT.UA), European Pravda, ICTV, Liga.net, Novoye Vremya Strany (NV), PRYAMIY Channel, Radio NV, The Kyiv Post.
←

Back to news list