People Trusted by Society Must Take Power in Their Hands – Svyatoslav Vakarchuk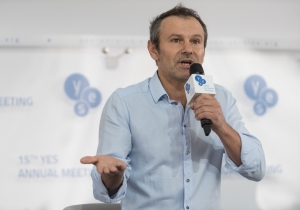 15 September 2018
People that are truly trusted by society have to take power into their hands, co-founder of the Center for Economic Reforms, social activist and lead singer of Okean Elzy band, Svyatoslav Vakarchuk, has said. Vakarchuk was speaking at the 15th Yalta European Strategy (YES) Annual Meeting organized by the Victor Pinchuk Foundation.
"Today, courts are 'absolutely trusted' by one percent of population. Is this a normal situation?! And, plus or minus a small amount, only seven percent of population 'more or less' trust them. Do you believe old judges should have any moral right to chair the judicial system, is there any common sense in this? The patrol police reform was more or less successful because it was a brand new beginning. This is the approach we have to take on everything. People who are trusted by the society must take power into their hands", Vakarchuk said.
He added that he is ready to work for change in the country. "I am ready to change the country. I do not think that to "play politics" is the proper name for the things we are talking about now. I am tired of those political games. They have being "playing politics" for the last 27 years, and I do not want us to "play politics", I want us to do something", Vakarchuk added.
When pressed by BBC HARDtalk Presenter, Stephen Sackur about plans to run for presidency in Ukraine, Vakarchuk responded: "What I really like about show-business is to keep people in suspense … sometimes the right time does not necessarily have to be at the YES conference, you may just come across someone on a street, talk to a person and make a decision during this conversation", Vakarchuk cryptically added.
The official Twitter handle of the 15th YES Annual Meeting is @yes_ukraine, and participants and followers can include the hash tag: #YESUkraine2018
Partners of 15th YES Annual Meeting:
Arawak Energy, Hillmont Partners, lifecell, International Renaissance Foundation, Western NIS Enterprise Fund (WNISEF).
Media partners of 15th YES Annual Meeting:
Dzerkalo Tyzhnya (DT.UA), European Pravda, ICTV, Liga.net, Novoye Vremya Strany (NV), PRYAMIY Channel, Radio NV, The Kyiv Post.
←

Back to news list