The war is already in the European continent, - Yulia Tymoshenko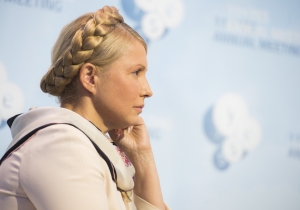 12 September 2014
European countries are involved in the countering between Ukraine and Russia. The Russian Federation is seeking to destabilize not only the Ukrainian State, but also a range of European countries. This opinion was voiced by head of the Batkivschyna party, Prime Minister of Ukraine (2007-2010) Yulia Tymoshenko during the panel "War in Ukraine: Can It Become European? Global? And How Can We End It?" at the 11th Annual Meeting of Yalta European Strategy (YES) on Friday in Kyiv.
"This war is far from being simple… it is referred to as a hybrid one, and it has many elements to it, these elements are related both to ruining the stability, economic and financial sustainability, normal investment climate, and more broadly, destabilizing not only Ukraine, but virtually a range of European countries… In reality, the war is already in the European continent, and the European countries are involved in that countering", points out Tymoshenko.
The leader of Batkivschyna assures that there is and there was no civil war on the territory of Ukraine. "Since the very first day, Russian special services and the Russian army have been running an offensive on Ukraine, destabilizing the situation and implementing their strategy on the Ukrainian territory", stresses the former Prime Minister. At the same time, in Tymoshenko's opinion, the aggression should be stopped with appropriate means, for instance, an introduction of short–term, but effective sanctions. Also, she believes that the format of the negotiation should be changed.
Ihor Smeshko, President of the Centre for Strategic Studies and Analysis. Who was also participating in the panel, said that the war was not over yet, and the future depended only on one person, Russian President Vladimir Putin. He believes that Ukraine has to become a nuclear power again.
Yalta European Strategy (YES) is the leading public diplomacy platform in Eastern Europe to develop strategies for Ukraine and Wider Europe and promote Ukraine's European integration. YES was established in 2004 by Ukrainian businessman and public figure Victor Pinchuk and is led by a distinguished board including President of Poland (1995-2005) Aleksander Kwasniewski, former Secretary General of NATO (1995-1999) and EU High Representative for Foreign and Security Policy (1999-2009) Javier Solana, and others.
The 11th Yalta European Strategy (YES) Annual Meeting will be streamed live at yes-ukraine.org in English and Ukrainian.
The official Twitter of the 11th YES Annual Meeting: @YES_Ukraine, Hashtag: #YESUkraine2014
Special Partners of the 11th YES Annual Meeting include:
DTEK, ALFA-BANK (UKRAINE), BURISMA HOLDINGS
Partners of the 11th YES Annual Meeting are:
SHELL, INTERNATIONAL RENAISSANCE FOUNDATION
Media Partners of the 11th YES Annual Meeting are:
ICTV, UKRAYINSKA PRAVDA, NOVOYE VREMYA STRANY (NV), ERA FM
←

Back to news list