Rule of law and fight against corruption are the prerequisites to draw investments to Ukraine, – Dmytro Shymkiv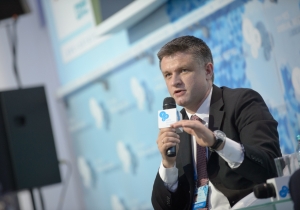 13 September 2014
Rule of law and fight against corruption, judiciary and police reform are the necessary prerequisites to draw investments to Ukraine. This was the opinion shared by Deputy Head of the Presidential Administration on administrative, social and economic reform Dmytro Shymkiv during the panel "Ukraine's Economy and Institutions: Reform Now - or Collapse" at the 11th Annual Meeting of the Yalta European Strategy (YES) on Saturday in Kyiv.
"I want Ukraine to be known via its economy, via its people and thanks to its opportunities and capabilities. The precondition for the economy is the rule of law, fight against corruption, judiciary reform and police reform – there will be no investment otherwise", he pointed out. Shymkiv emphasized that drawing investment to Ukraine is possible even in a situation of war. "We have so many regions, there are investments that are eager to come to the Lviv region ", said the Deputy Head of the Presidential Administration.
Valdis Dombrovskis, Member of the European Parliament (European People's Party Group), Latvian Prime Minister (2009-2014) who was also participating in the panel gave some advice to Ukraine: in the near days, arrangements with Russia on gas should be reached, during the next couple of months, the budgetary issues should be solved (including the issues of income, deficit, subsidies), and the task for six months to one year is to implement anti-corruption reforms top-down.
Yalta European Strategy (YES) is the leading public diplomacy platform in Eastern Europe to develop strategies for Ukraine and Wider Europe and promote Ukraine's European integration. YES was established in 2004 by Ukrainian businessman and public figure Victor Pinchuk and is led by a distinguished board including President of Poland (1995-2005) Aleksander Kwasniewski, former Secretary General of NATO (1995-1999) and EU High Representative for Foreign and Security Policy (1999-2009) Javier Solana, and others.
The 11th Yalta European Strategy (YES) Annual Meeting will be streamed live at yes-ukraine.org in English and Ukrainian.
The official Twitter of the 11th YES Annual Meeting: @YES_Ukraine, Hashtag: #YESUkraine2014
Special Partners of the 11th YES Annual Meeting include:
DTEK, ALFA-BANK (UKRAINE), BURISMA HOLDINGS
Partners of the 11th YES Annual Meeting are:
SHELL, INTERNATIONAL RENAISSANCE FOUNDATION
Media Partners of the 11th YES Annual Meeting are:
ICTV, UKRAYINSKA PRAVDA, NOVOYE VREMYA STRANY (NV), ERA FM
←

Back to news list