There are enough young and honest lawyers in Ukraine to replace all judges and prosecutors – senior fellow at the US Atlantic Council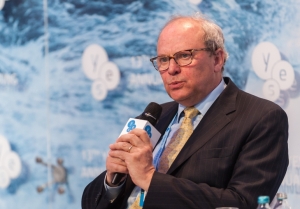 17 September 2016
There is a sufficient number of young and honest lawyers able to take the places of all the judges and prosecutors in Ukraine, of whom only 5% are not corrupt, said Anders Aslund, resident senior fellow, Atlantic Council, at the 13th Yalta European Strategy Annual Meeting (YES).
"Whilst Ukraine has come a long way in other areas, we have not seen any improvement in the judicial system. What I would like to see is a reform like those carried out in East Germany, in Estonia and Georgia: those countries were bold and sacked all their prosecutors and judges. This enabled them to completely change their judicial systems. Ukraine has enough young, honest, good, lawyers to take the place of these people," he said.
"Currently these institutions are pervasively corrupt. If we look at the prosecutor's office in Ukraine, what we see is that when a case is brought there are prosecutors compiling files about the people involved and then taking those files to their subjects and saying, "I have interesting information about you, how much are you ready to pay?" It is because the corruption runs so deep that none of those 'big fish' who are known to be the most corrupt in Ukrainian society have been prosecuted in the last two years," stressed Aslund.
←

Back to news list