Nino Burdzhanadze to participate in the work of the 2nd YES University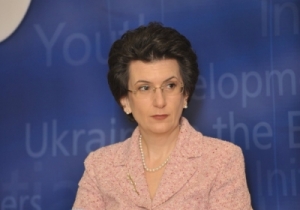 02 October 2008
On October 2-3 Nino Burdzhanadze is staying in Ukraine on invitation of Yalta European Strategy and the Victor Pinchuk Foundation to participate in the 2nd YES University, which currently takes place in Kyiv.
Visit of the former chair of the Georgian parliament to Ukraine is private.
On October 3 Burdzhanadze is to participate in the plenary session of the 2nd YES University Back to Cold War? held in Rus Hotel within the framework of discussion block European Foreign Policy. Start at 9.30 a.m.
After the session Burdzhanadze will attend Ukrainian press briefing to start at 11.00 a.m at the venue of the 2nd YES University. Afterwards, Burdzhanadze will go to Diplomatic Club Open Ukraine.
The 2nd YES University is one of the largest fora of the young political leaders of Europe which will last until October 4.
The agenda of the event features issues, crucial for Ukraine and EU, such as global problems of economy and energy sector, new configuration of the European community, current geopolitical situation and information wars, prospects of Ukraine's integration to Europe.
The forum of 2008 will bring together about 180 representatives of the youth organizations of three leading political forces of Europe - European People's Party, European socialists and liberals and the young leaders of Ukraine. Ukrainian side will be represented by such youth wings of political parties as Union of Youth of Regions of Ukraine, Youth Union of "Our Ukraine", Union of Young Socialists, Ukrainian Students' Union, Motherland the Young, Democratic Alliance, Christian Democratic Youth Union, Young "Rukh", Ukrainian Youth "Sobor", Foundation of Regional Initiatives and others. Nearly 40 participants of the 2nd YES University do not belong to any political organization. These are young people of pro-active life stance who are directly involved in various social initiatives and processes. Overall, young politicians from 28 European countries participate in the forum.
Among the participants of the 2nd YES University are Mr. Jan Figel, Member of the European Commission for Education, Training, Culture and Youth; Mr. Marek Siviec, Vice President of the European Parliament, Alexandr Kwasniewski, President of Poland (1995 - 2005); Mr. Adrian Severin, Chairman of Interparliamentary Committee of Ukraine-EU Cooperation; Mr. Charles Tannock, Vice Chairman of Delegation of Interparliamentary Committee of Ukraine-EU Cooperation; Mr. Sergey Glazyev, Director of the New Economy Institute of the State Administration University of Russian Federation and Member of the State Duma of Russian Federation of the 1st (1994-1995) and the 3rd (2000-2003) convocations; Mr. Arseniy Yatsenyuk, Chairman of Verkhovna Rada of Ukraine; Mr. Hryhoriy Nemyrya, Vice Prime Minister of Ukraine for European Integration; and Mr. Anatoliy Hritsenko, the People's Deputy of Ukraine.
←

Back to news list