Government commits to ensuring legal-minimum Internet speed across whole of Ukraine - Mykhailo Fedorov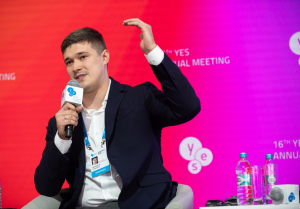 14 September 2019
The government expects to ensure broadband Internet access across the entire territory of Ukraine in the next few years, and is proposing imposing a minimum speed in law, Deputy Prime Minister and Minister of Digital Transformation of Ukraine, Mykhailo Fedorov, said at the 16th Yalta European Strategy (YES) Annual Meeting "Happiness Now. New Approaches for a World in Crisis" organised by the Victor Pinchuk Foundation.
"Today, no-one in Ukraine understands the real extent of the Internet coverage in the regions. We really want to fix this in the next few months, first by understanding what we have and then by putting plans in place to achieve a minimum across the country. Our goal for the next few years is to ensure that 100% of social infrastructure and 100% of settlements have access to broadband Internet. In addition, we want to secure a minimum Internet speed at the legislative level," he said. Fedorov added that as a first stage, Ukraine needs to ensure truly complete and high-quality 3G and 4G coverage.
"We are currently working on introducing full-scale 3G and 4G across the country. At present it is all very patchy - there are many white or black spots. At an upcoming forum in Mariupol, we will present our plan for making sure that within a year or two, every part of Ukraine has good 3G and 4G. Until we fix these basic things, we cannot proceed to the next level (5G)," he said.
The Deputy Prime Minister also talked about plans to move to electronic government administrative services. "How can we help our people become at least a little happier? I want our state to become a simple service like Uber or Booking. You need the help of the state - you just take out your smartphone and use it (…) We want to take the 50 most popular services online in the next 2-3 years and make 50% or more of our target audience 90% satisfied with their use," Fedorov concluded.
←

Back to news list