Government has not stepped back from its intention to implement land reform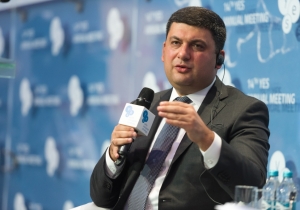 16 September 2017
The Ukrainian Government has not stepped back from its intention to implement land reform, said the Prime Minister of Ukraine, Volodymyr Groysman, at the 14th Annual Meeting of Yalta European Strategy (YES) organised by the Victor Pinchuk Foundation.
"We believe that a reform of land relations is very important for economic development. We never stepped back from it. We want to provide explanations, we want every person in the country to understand what its essence is and how it will be implemented. People want clear guarantees that no foreign citizens will be able to buy Ukrainian land nor get hold of it in some way. This is a matter of principle", the Ukrainian Prime Minister said.
Groysman added that the Government is also focusing on the development of farming enterprises and has provided budgetary support for it during the next year. "We need the agro-industrial complex structure to be changed and I believe that farming is an important base for its development. We do not mind big business, but I stand for those who establish small farming enterprises", the Prime Minister said.
In addition to the land reform, the Government is planning to implement reforms of the pension, health and education sectors in the near future, and to enhance privatisation.
"Next week, Ukraine will see a new, fair pension system that will contribute to macroeconomic stability among other things. We are now close to a new healthcare system, and some weeks ago, the Parliament approved a new education system", Groysman added.
The online stream of the Yalta European Strategy (YES) 14th Annual Meeting will be available online at yes-ukraine.org as well as on the websites of our media partners, in both English and Ukrainian.
The official Twitter of the 14th YES Annual Meeting is @yes_ukraine, and participants and followers can include the hash tag: #YESUkraine2017
←

Back to news list