Ukrainians are optimistic about the future, says Victor Pinchuk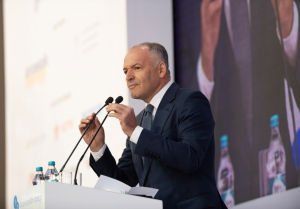 13 September 2019
Ukrainians are extremely optimistic about the future, despite being pessimistic in their assessment of the present, Victor Pinchuk, the founder of Yalta European Strategy (YES), Victor Pinchuk Foundation and EastOne Group, announced today.
In his welcoming remarks at the 16th YES Annual Meeting themed "Happiness Now. New Approaches for a World in Crisis" organised by the Victor Pinchuk Foundation, Pinchuk announced the results of a global research.
"Our leadership undertook extensive global research asking citizens from across the world what was most important to them in life. In many countries the response was happiness, health or financial security. But citizens of one country wanted something else, they simply wanted their children to be happy. This country is Ukraine. Despite the fact that Ukrainians are very pessimistic of the present, they are very optimistic of the future. We are the most optimistic country in the world!" Pinchuk said.
Based on these results, Pinchuk told Ukrainian President Volodymyr Zelensky, "that as he was the servant of the people he was therefore governing for people's happiness."
Pinchuk also said that at the 2019 election, Ukrainians specifically voted for change - for the progress towards a better and happier life. "These were not gloomy people who voted for populism. These were unsatisfied people who realised that change was indeed possible. They voted for the hope of future happiness," Pinchuk said.
Pinchuk, like the majority of Ukrainians from the study, are optimistic about Ukraine's future. "Our opponents feel that the entire history of Ukraine is an existential menace. We need to overcome these attacks, not with arms but with hearts and minds. I am confident that Ukraine will become an intellectual centre, a leading power and a happy country that the entire region will look to follow. The people of Crimea will also be attracted like magnets to be part of Ukraine." Pinchuk added.
←

Back to news list