"Ukrainian case" undermines non-proliferation efforts - Richard Haass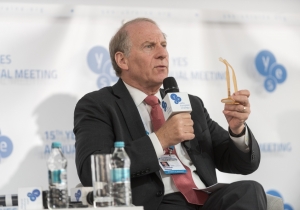 15 September 2018
The aggression against Ukraine, one of the signatories to the Budapest Memorandum, undermines international non-proliferation efforts, President of the Council on Foreign Relations, Richard Haass has said.
"We analysts, do not think that North Korea will abandon its nuclear weapons, no matter what Donald Trump says, exactly because of the Ukrainian case. I am confident that North Korea will keep its nuclear weapons. We wanted to continue the non-proliferation policy but the Ukrainian case undermines all of these efforts," he said at the 15th Yalta European Strategy (YES) Annual Meeting organized by the Victor Pinchuk Foundation.
According to Haass, because of the aggression against Ukraine, even countries which do not have nuclear weapons may consider acquiring them.
The official Twitter handle of the 15th YES Annual Meeting is @yes_ukraine, and participants and followers can include the hash tag: #YESUkraine2018
Partners of 15th YES Annual Meeting:
Arawak Energy, Hillmont Partners, lifecell, International Renaissance Foundation, Western NIS Enterprise Fund (WNISEF).
Media partners of 15th YES Annual Meeting:
Dzerkalo Tyzhnya (DT.UA), European Pravda, ICTV, Liga.net, Novoye Vremya Strany (NV), PRYAMIY Channel, Radio NV, The Kyiv Post.
←

Back to news list