Kwasniewski: Ukraine needs our understanding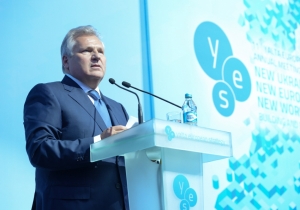 11 September 2014
Ukraine needs the continued understanding and solidarity of the European community, said Alexander Kwasniewski, Polish President (1995-2005), Chairman of the Board of Yalta European Strategy (YES), at the opening reception of the 11th YES Annual Meeting entitled "New Ukraine, New Europe, New World: Building and Defending" on the evening of 11th September 2014, in Kyiv.
He told the audience of international politicians, business people and academics, "I think your presence here is a signal of what Ukraine needs: our solidarity, our understanding".
He stressed that there were many issues and questions that needed discussing during the two and a half days of the YES meeting. "We will have time to discuss what we can do in this extraordinary situation. Victor Pinchuk and his Foundation have made it possible for us to exchange ideas at all levels, and we will be talking about how to resolve the current situation, how to support the European ambitions of Ukraine, and how to create the proper conditions for dialogue and cooperation between Europe and Russia, Russia and Ukraine... This will be our contribution to the political debate about the future of Europe, Ukraine and the world … we want everybody to hear our voice: we need a dialogue, we need peace, we are against violence", said Kwasniewski.
The official Twitter of the 11th YES Annual Meeting: @YES_Ukraine, Hashtag: #YESUkraine2014
Special Partners of the 11th YES Annual Meeting include:
DTEK, ALFA-BANK (UKRAINE), BURISMA HOLDINGS
Partners of the 11th YES Annual Meeting are:
SHELL, INTERNATIONAL RENAISSANCE FOUNDATION
Media Partners of the 11th YES Annual Meeting are:
ICTV, UKRAYINSKA PRAVDA, NOVOYE VREMYA STRANY (NV), ERA FM.
←

Back to news list