Ukraine Needs New Energy Strategy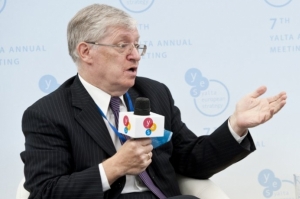 02 October 2010
Upon the end of the world economic crisis the prices for the energy products are going to be on the rise. The age of inexpensive energy is over.
This was claimed by Leonid Grigoriev, the President of the Institute for Energy and Finance (Russia), during his session "The Energy Challenge" at the 7th YES Yalta Forum.
"In 2-3 years gas will be in high demand again. The crisis will be over – there will be new gas prices", - he noted. According to IEF Director, the gas price is being lowered for political reasons, including, at the expense of consumption of liquefied gas which is virtually being sold at dumping prices. However, the world economy recovery will set the record straight.
In this regard Ukraine will face serious problems if it does not make a change to its energy model. "There are no easy solutions in the energy sphere. Ukraine is energy intensive country. It needs energy consumption reduction and energy efficiency growth".
Leonid Grigoriev's vis-a-vis at the session on "The Energy Challenge", Professor of the City University London, Alan Riley, thinks that the world energy has been experiencing a fundamental change over the last 3-4 years, and theses changes are connected with an increase in shale gas production.
"Ukraine does not necessarily have to rely on the incomes from oil and gas transit. It should develop its own resources. The Ukrainian gas will be more competitive in the European market than the Russian one", - he emphasized.
Both Ukraine and Russia should understand the changes in the global energy balance. This will help them cease having disputes about "gas issue" and focus on new energy sources. "Both Ukrainians and Russians make use of a gas argument in the international relations on a continuing basis. But they absolutely do not think whether there is a demand for "their" gas in Europe and whether it will exist in future. We must admit that the rules have changed, and they have changed forever", - Professor Riley brought it into focus.
Media Partners:
Euronews
"Korrespondent"
Special partners of the 7th Yalta Annual Meeting:
DCH
Kyivstar
International Renaissance Foundation
Partner of the 7th Yalta Annual Meeting:
Nemiroff
←

Back to news list