Ukraine Needs Greater International Support – Donald J. Trump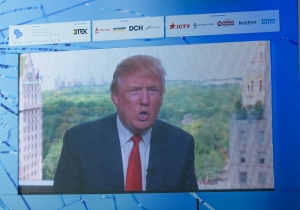 11 September 2015
Ukraine requires greater international support, Donald J. Trump, chairman and president of The Trump Organization, said during a satellite television link interview, during which he discussed new Ukraine's impact on Europe and the world, with delegates of the 12th Yalta European Strategy (YES) Annual Meeting in Kiev on Friday 11 September.
"I am very much concerned for Ukraine, I am concerned about that region and what is going on there," Trump said. "I believe that people from different corners of the world should help Ukraine. I do not think that Ukraine is getting the respect it deserves, and it has long been proving it deserves respect. Whether it is Germany or other countries, I don't think you are getting the support that you need," he said.
Trump, who is seeking the Republican presidential nomination in the United States, was critical of American support of Ukraine, saying the current administration's support of the country has been "far more in words than in action." He added, "We call this gobbledygook. Part of the problem is that [Russian President Vladimir] Putin has no respect for our president."
The 12th Yalta European Strategy Annual Meeting is streamed live at yes-ukraine.org as well as web-sites of the Media Partners in English and Ukrainian.
The official Twitter of the 12th YES Annual Meeting is @yes_ukraine, and participants and followers can include the hashtag: #YESUkraine2015.
←

Back to news list