Ukraine Will Continue on Path of Reforms - Petro Poroshenko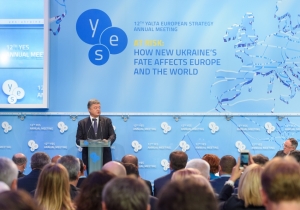 11 September 2015
Ukraine will continue forward on a path of reform and, in particular, the taxation system will be improved, Ukrainian President Petro Poroshenko said today, in his remarks at the 12th Yalta European Strategy (YES) Annual Meeting.
"Like Prime Minister Arseniy Yatsenyuk and the parliament coalition, I am not satisfied with some of the outcomes of the reforms," he said. "However, those who do not work, we will have to resolve those mistakes."
Poroshenko added: "When people ask me if I am optimistic about the economic situation, the answer is, 'Yes, I am.' We discussed the new tax code at the latest meeting of the National Reforms Council. This new tax code will help us much with improvement of the investment climate," he said.
The president also stated that that Ukraine needs real support from investors, not just guidance.
"We need support from investors, not just their counsel, as we all are in one boat. I am absolutely certain that we must remain optimistic during this challenging time. We can win only after we obtain victory in our minds."
The 12th Yalta European Strategy Annual Meeting will be streamed live at yes-ukraine.org as well as web-sites of the Media Partners in English and Ukrainian.
The official Twitter of the 12th YES Annual Meeting is @yes_ukraine, and participants and followers can include the hashtag: #YESUkraine2015.
←

Back to news list