Ukraine to Become NATO's East Stronghold – Petro Poroshenko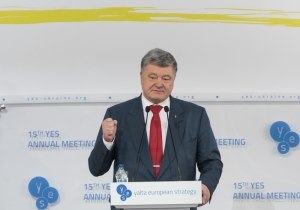 14 September 2018
Ukraine shall be the eastern stronghold in NATO's common security system, Ukrainian President Petro Poroshenko said. Poroshenko was addressing the 15th Annual Yalta European Strategy (YES) Conference, themed "The Next Generation of Everything", organized by the Victor Pinchuk Foundation.
"The stars that light our way – these are the stars on the European Union flag and Ukraine's compass is one shown on NATO's emblem…Our European and Euro-Atlantic aspirations shall be considered in a broader international and European context. It is not that we need just the EU, we also need NATO. In the same way, they also need us. Not only would NATO would give us effective security guarantees but we, with our new army, would seriously reinforce NATO's east flank.", Poroshenko said.
Poroshenko stressed that Ukraine's hands on its way to NATO are not empty.
"We are grateful for international solidarity. For three years we have been defending each piece of Ukraine's land on our own and we have restored the armed forces. In fact, we offer the defense bloc one of the strongest armies on the continent. And what is the most important – we have unique experience in defending ourselves, and let me put diplomacy aside, in fighting the Russian aggressor. Ukraine has huge potential in human force and human faith," Poroshenko also said.
According to Poroshenko, the non-aligned course that Ukraine used to take before was a mistake, however, NATO's policy aimed at pacification of Russia, also appeared to be wrong.
"The non-aligned status imposed on Ukraine from the standpoint of ensuring national security turned out to be even more negligible than the commemorable Budapest Memorandum. By the way, we recall not only Budapest, but also Bucharest. On the one hand, NATO Summit approved a very important decision – that the Alliance's door is open for Ukraine and Georgia, but on the other hand, we have to say this frankly, Ukraine and Georgia were not offered any action plan for the membership at that time. What should we call this? Pacification of a potential aggressor. This has already happened more than once in human history and in European history. In 2008 this did not work as Russia took it not as pacification but as a sign of weakness, as carte blanche for using force against any of its neighbors" Poroshenko claimed.
Poroshenko also stressed that the united Europe project may only be completed with Ukraine. "Ukraine is a euro-optimistic nation, having unique belief in Europe. As of the European Union itself, I want to stress that this gigantic project may only be completed with Ukraine. Because it is not the Urals, but our Ukrainian north-east border that is the border of the modern European civilization", Poroshenko concluded..
The official Twitter handle of the 15th YES Annual Meeting is @yes_ukraine, and participants and followers can include the hash tag: #YESUkraine2018
Partners of 15th YES Annual Meeting:
Arawak Energy, Hillmont Partners, lifecell, International Renaissance Foundation, Western NIS Enterprise Fund (WNISEF).
Media partners of 15th YES Annual Meeting:
Dzerkalo Tyzhnya (DT.UA), European Pravda, ICTV, Liga.net, Novoye Vremya Strany (NV), PRYAMIY Channel, Radio NV, The Kyiv Post.
←

Back to news list