Ukraine should join NATO, but is not ready for that now, - Valeriy Chalyi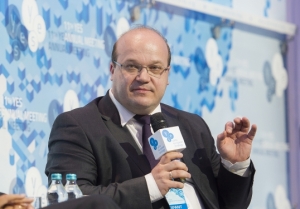 12 September 2014
Ukraine should become part of the joint powerful Euro-Atlantic security system, but so far, it is not ready for that. No treaty gives guarantees today: the security guaranteed for the Ukrainian State under the Budapest Memorandum does not work any longer. This was pointed out by the Deputy Head of the Presidential Administration of Ukraine Valeriy Chalyi during the panel "From Yalta via Budapest to Yalta – Global Security Breakdown?" at the 11th Annual Meeting f Yalta European Strategy (YES) on Friday in Kyiv.
"We understand that no treaty can guarantee security to anybody, including Ukraine... the only thing that could guarantee us the security is our internal unity... And we also rely on our partners, but we have to realize that the security that was guaranteed under the Budapest Protocol does not work any longer", said Chalyi.
Leonid Kuchma, Ukrainian President (1994-2005), who also took part in the discussion, recalled his signing the Budapest memorandum 20 years ago. "It is exactly 20 years ago that I became President of Ukraine and signed the memorandum in Budapest, and indeed, I had at the time 100% confidence that we got a very good umbrella. President (of France Francois) Mitterrand did not feel himself very well, and I visited him at the hotel to sign the protocol of France's joining the guarantee …he said, "young man, do not trust them, they will deceive you. I want to pronounce these words today".
According to the Deputy Head of the Presidential Administration, Ukraine has two ways that could guarantee security to the State: a treaty with a nuclear State, for example, with the USA… and the USA are not ready. The other is a collective organization for security and defence. For Europe now, it is NATO, and Ukraine is moving in that direction ", stressed the Deputy. At the same time, Chalyi noted that so far, Ukraine is not ready to join the alliance. "However, we are not ready so far, because NATO is not ready …The only possibility for Ukraine is to become part of a joint powerful Euro-Atlantic security system, but this does not mean that we are ready for that now. We have to achieve cooperation with the NATO armed forces ", he summarized.
The Budapest memorandum on security assurances for Ukraine's joining the Nuclear Non-proliferation is an agreement between Ukraine, the USA, Russia and Great Britain on Ukraine's non-nuclear status. The agreement contains provisions giving Ukraine guarantees for its sovereignty and security.
Yalta European Strategy (YES) is the leading public diplomacy platform in Eastern Europe to develop strategies for Ukraine and Wider Europe and promote Ukraine's European integration. YES was established in 2004 by Ukrainian businessman and public figure Victor Pinchuk and is led by a distinguished board including President of Poland (1995-2005) Aleksander Kwasniewski, former Secretary General of NATO (1995-1999) and EU High Representative for Foreign and Security Policy (1999-2009) Javier Solana, and others.
The 11th Yalta European Strategy (YES) Annual Meeting will be streamed live at yes-ukraine.org in English and Ukrainian.
The official Twitter of the 11th YES Annual Meeting: @YES_Ukraine, Hashtag: #YESUkraine2014
Special Partners of the 11th YES Annual Meeting include:
DTEK, ALFA-BANK (UKRAINE), BURISMA HOLDINGS
Partners of the 11th YES Annual Meeting are:
SHELL, INTERNATIONAL RENAISSANCE FOUNDATION
Media Partners of the 11th YES Annual Meeting are:
ICTV, UKRAYINSKA PRAVDA, NOVOYE VREMYA STRANY (NV), ERA FM
←

Back to news list