Ukraine has to stop the Russian intervention without involving the US Army, - general Wesley Clark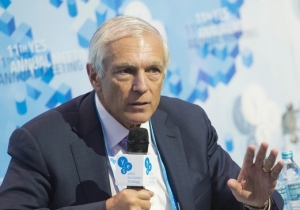 12 September 2014
The United States of America will not wage a war against Russia for Ukraine, this country should stop the Russian intervention in the East itself, said Wesley Clark, US Armey general (retired), NATO Supreme Allied Commander (1997-2000), during the panel "War in Ukraine: Can It Become European? Global? And How Can We End It?" at the 11th Annual Meeting of Yalta European Strategy (YES) on Friday in Kyiv.
"Ukraine should solve its issues itself, there should be its leaders, the military should reorganize, Putin should ultimately find again common sense. Things should be told as they are at this forum: there is a war, there has been an incursion, regular Russian army was in the Eastern Ukraine, and prior to that, there had been artillery bombardments, air strikes, intrusions of helicopters. This is not a rebellion in Donetsk but a Russian intervention! And it should be stopped", said Wesley Clark.
The US Army general also drew parallels between the actions of Vladimir Putin and Adolf Hitler.
Joschka Fischer German Foreign Minister and Vice-Chancellor (1998-2005) who also took part in the panel, sees the threat from the RF actions not only for the Ukrainian, but also for the European security, as Vladimir Putin seeks to establish a global superpower. "I believe that this is a mistake, but he is doing that", said Joschka Fischer.
Yalta European Strategy (YES) is the leading public diplomacy platform in Eastern Europe to develop strategies for Ukraine and Wider Europe and promote Ukraine's European integration. YES was established in 2004 by Ukrainian businessman and public figure Victor Pinchuk and is led by a distinguished board including President of Poland (1995-2005) Aleksander Kwasniewski, former Secretary General of NATO (1995-1999) and EU High Representative for Foreign and Security Policy (1999-2009) Javier Solana, and others.
The 11th Yalta European Strategy (YES) Annual Meeting will be streamed live at yes-ukraine.org in English and Ukrainian.
The official Twitter of the 11th YES Annual Meeting: @YES_Ukraine, Hashtag: #YESUkraine2014
Special Partners of the 11th YES Annual Meeting include:
DTEK, ALFA-BANK (UKRAINE), BURISMA HOLDINGS
Partners of the 11th YES Annual Meeting are:
SHELL, INTERNATIONAL RENAISSANCE FOUNDATION
Media Partners of the 11th YES Annual Meeting are:
ICTV, UKRAYINSKA PRAVDA, NOVOYE VREMYA STRANY (NV), ERA FM
←

Back to news list