Ukraine has potential to increase domestic production of gas - Graham Tiley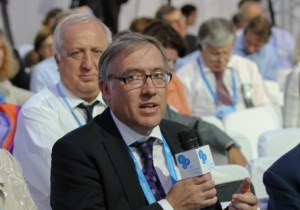 12 September 2014
Ukraine will be able to increase gas production from its own resources if appropriate conditions for this are created, particularly, pursuing the course of reforms, openness to investment and stabilization of the situation in the Eastern regions this was pointed out by the Vice-President on exploration and production of Shell in Ukraine and the Chairman of Shell in Ukraine Graham Tiley during the session "Energy Security: Now a Matter of Life and Death" at the 11th Annual Meeting of Yalta European Strategy (YES) on Friday in Kiev.
"I believe that Ukraine has the potential to increase its domestic production of gas ... One must steer a steady course of reforms, be open for investment, and abolish certain regulations which complicate this. And I am quite sure that if we create appropriate conditions here, Ukraine will increase production from its own resources ... We would very much like to see settlement of the situation in Eastern Ukraine before we can make
a decision about significantly increasing our involvement," said Tiley.
Deputy Prime Minister and Minister of Foreign and European Affairs of the Slovak Republic Miroslav Lajcak, who participated in the discussion, noted that although the energy issue is not a matter of life and death for Ukraine, however it will determine the future of the country.
"I would not say that energy is a matter of life and death for Ukraine, but this is a very important issue that will determine the future of Ukraine, because Russia will remain a major supplier of gas to a number of countries, including Ukraine, including other countries that will be steadily dependent on the Russian gas and oil. I am afraid that Russia will be tempted to use its gas supply as a political instrument and this trend will not disappear", said Lajcak. He noted that Ukraine and Slovakia are currently discussing the aspects of cooperation to modernize the Ukrainian energy system and improve its efficiency.
According to the Minister of Energy and Coal Industry Yuriy Prodan, Russia is already using gas supplies as a political tool.
Yalta European Strategy (YES) is the leading public diplomacy platform in Eastern Europe to develop strategies for Ukraine and Wider Europe and promote Ukraine's European integration. YES was established in 2004 by Ukrainian businessman and public figure Victor Pinchuk and is led by a distinguished board including President of Poland (1995-2005) Aleksander Kwasniewski, former Secretary General of NATO (1995-1999) and EU High Representative for Foreign and Security Policy (1999-2009) Javier Solana, and others.
The 11th Yalta European Strategy (YES) Annual Meeting will be streamed live at yes-ukraine.org in English and Ukrainian.
The official Twitter of the 11th YES Annual Meeting: @YES_Ukraine, Hashtag: #YESUkraine2014
Special Partners of the 11th YES Annual Meeting include:
DTEK, ALFA-BANK (UKRAINE), BURISMA HOLDINGS
Partners of the 11th YES Annual Meeting are:
SHELL, INTERNATIONAL RENAISSANCE FOUNDATION
Media Partners of the 11th YES Annual Meeting are:
ICTV, UKRAYINSKA PRAVDA, NOVOYE VREMYA STRANY (NV), ERA FM
←

Back to news list